National Assembly of the Republic of Serbia / Activities / Activity details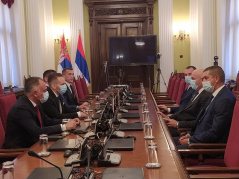 7 June 2021 Participants of the meeting
Monday, 7 June 2021
National Assembly Deputy Speaker Stefan Krkobabic Meets with Montenegrin MP Vladimir Jokovic
National Assembly Deputy Speaker Stefan Krkobabic met today with Montenegrin MP Vladimir Jokovic to discuss different types of cooperation between the two countries.
---
At the very beginning of the meeting National Assembly Deputy Speaker Stefan Krkobabic welcomed the parliamentary delegation of the Socialist People's Party of Montenegro, pointing to the National Assembly House is a symbol of unity of the two peoples and reminding them that the then Prime Minister of the Federal Republic of Yugoslavia Momir Bulatovic was elected in the National Assembly House.
Vladimir Jokovic, Member of the Parliament of Montenegro, said that the MPs should advocate for a shift in the cooperation between the two brotherly nations and to alleviate the relations between the two countries that are not in the interest of the citizens of Serbia and Montenegro.
Krkobabic said that cooperation should be achieved at the party level as well, considering the same political views shared by the Party of United Pensioners of Serbia and the Socialist People's Party of Montenegro. He thanked the MP for his support of the Serbian Orthodox Church and agreed that the two countries should turn to dialogue, given that they share the same values, language and culture.
The officials went on to agree on an exchange of programme ideas that can be applied in both countries, such as attracting foreign investments to Montenegro, since Serbia has had a lot of success in that field. In addition to economic topics, the officials also discussed cooperation in the field of tourism, culture and sports. The National Assembly Deputy Speaker took the opportunity to thank the Socialist People's Party of Montenegro for its firm stance on non-recognition of the existence of the so-called Republic of Kosovo and defence of the interests of the Republic of Serbia.
MP Dragan M. Markovic also took part in the meeting and said that Montenegro can follow Serbia's successful model as regards the establishment of business cooperatives, subsidised by the Government, as an example of good practice of youth employment in rural areas and aid entrepreneurial households.
At the end of the meeting, the officials agreed to continue the dialogue in the coming period in order to realise the abovementioned types of cooperation.
---
---
monday, 27 june
No announcements for selected date