National Assembly of the Republic of Serbia / Activities / Activity details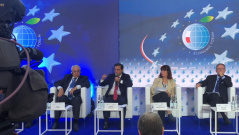 5 September 2018 National Assembly Deputy Speaker Prof. Dr Vladimir Marinkovic at the Economic Forum in Krynica
Wednesday, 5 September 2018
National Assembly Deputy Speaker Prof. Dr Vladimir Marinkovic at Economic Forum in Krynica
The Deputy Speaker of the National Assembly of the Republic of Serbia Prof. Dr Vladimir Marinkovic took part in the Economic Forum in the Polish town of Krynica, also known as "Eastern Davos".
---
As guest of the Marshal of the Sejm (Polish parliament) Marek Kuchcinski, he spoke at the panel on the challenges of the migrant crisis and cooperation between the countries of Eastern and Central Europe. He said that Serbia fully intends to take part in regional initiatives, especially with the Carpathian countries and members of the Visegrad Group. He opined that economic cooperation between these countries has a bright future if they all work together and construct a common infrastructure. As an example he mentioned project Warsaw-Krakow-Brno-Bratislava-Budapest Belgrade high-speed railway which will significantly advance the economic capacities and investments in this part of Europe.
Marinkovic said that Serbia will be advancing its cooperation with the countries of the Visegrad Group and consult them on issues concerning the migrant crisis, and also thanked the Group for its support of Serbia's European path.


---
---
wednesday, 15 july
13.00 - press conference of MPs Sasa Radulovic, Branka Stamenkovic and Vojin Biljic (National Assembly House, 13 Nikola Pasic Square, Central Hall)