National Assembly of the Republic of Serbia / Activities / Activity details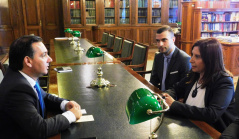 21 May 2019 National Assembly Deputy Speaker Prof. Dr Vladimir Marinkovic in meeting with Professor Dr Maria Kyriakidou
Tuesday, 21 May 2019
National Assembly Deputy Speaker Prof. Dr Vladimir Marinkovic Talks to Professor of American College of Thessaloniki
National Assembly Deputy Speaker Prof. Dr Vladimir Marinkovic met today at the National Assembly with the head of Humanities at the American College of Thessaloniki, Professor Dr Maria Kyriakidou, to discuss cooperation in the field of education and science and fostering closer ties between Serbian and Green institutions of higher education.
---
Deputy Speaker Marinkovic said that the two countries have excellent political and economic cooperation and that there is room to intensify cooperation in the field of education and science. Science is very important for our society and the aim is to allocate more funds in the coming years for the development of science. In addition, the National Assembly and the Government have in the previous period invested great efforts into creating a better business environment, ensuring economic growth and constructing infrastructure and roads, said Marinkovic.
Professor Kyriakidou, currently visiting the Centre for International Public Policy of the Faculty of Political Sciences, spoke about the possibility of launching joint projects funded through EU funds.
The Deputy Speaker and Professor agreed that it would be mutually beneficial to work on connecting Serbian and Greek universities through scientific projects and student practice and exchange programmes.


---
---
thursday, 24 september
No announcements for selected date