National Assembly of the Republic of Serbia / Activities / Activity details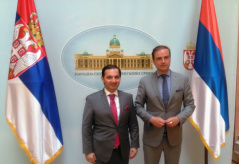 9 May 2018 Deputy Speaker Marinkovic and the Chairman of the Committee on European Affairs of the Parliament of the Netherlands Malik Azmani
Wednesday, 9 May 2018 11:20
National Assembly Deputy Speaker Prof. Dr Vladimir Marinkovic Receives Delegation of Dutch Parliament's Committee on European Affairs
National Assembly Deputy Speaker Prof. Dr Vladimir Marinkovic met today with a delegation of the Committee on European Affairs of the Parliament of the Netherlands, headed by the Chairman Malik Azmani.
---
Deputy Speaker Marinkovic said that Serbia is very interested in deepening cooperation with the Netherlands, especially on matters concerning the European integration process.

"We would like to modernize the country and we are investing considerable efforts into securing the high European standards of living for our people", said Marinkovic to the eight-member Dutch delegation.
He added that Serbia has achieved excellent results in the field of economic reform, especially where fiscal consolidation and attracting foreign investment is concerned.

Marinkovic said that EU accession is Serbia's strategic goal and the National Assembly is working hard to establish a solid framework to institute the rule of law, especially in the part concerning human and minority rights. Speaking of the relationship with the Netherlands, Marinkovic said that there is room to advance economic cooperation and trade and boost the volume of agricultural, energy and IT exchange.
"We would very much like to attract investors from your country and demonstrate that we are the economic leader of the region and a good place to invest in", said the National Assembly Deputy Speaker.

With the hope that the relations between Serbia and the Netherlands would intensify, the Dutch Parliamentary delegation proceeded to speak about Serbia's progress as regards the rule of law, the continuation of the dialogue within the Brussels Agreement and the Council of Europe's Progress Report on Serbia as it relates to the National Assembly.


---
---
wednesday, 8 july
No announcements for selected date