National Assembly of the Republic of Serbia / Activities / Activity details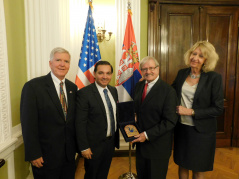 22 July 2019 National Assembly Deputy Speaker Prof. Dr Vladimir Marinkovic and Apollo 11 engineer David Vuich
Monday, 22 July 2019
National Assembly Deputy Speaker Prof. Dr Vladimir Marinkovic Receives Apollo 11 Engineer David Vuich
National Assembly Deputy Speaker Prof. Dr Vladimir Marinkovic received NASA engineer David Vuich, one of seven Serbs who worked on the Apollo programme and were part of the Apollo 11 team.
---
Deputy Speaker Marinkovic thanked Vuich for visiting and not forgetting Serbia. He spoke about the National Assembly's activities, economic reform and the activities of the PFG with the US and the Serbian-American Friendship Congress. He said he was pleased by the effects of the reforms conducted in Serbia in the past years, resulting in a 3.4% GDP increase and 3.3 billion EUR in foreign investment last year. Marinkovic also said that on its path to the EU and social reform Serbia is faced with many challenges, one of them being the continuation of the dialogue with Pristina to find a solution acceptable for both sides and the region, which needs stability, something Serbia is deeply committed to.
"We are very proud of you and your work, just as we are proud of all Serbs who have shared their expertise and knowledge with the world. Our nation is proud your contributions to the development of relations between the US and Serbia", said the National Assembly Deputy Speaker.
Marinkovic said that the general public in Serbia, young people in particular, should be taught about the success of our people in the US because little is known about it in the country.
David Vuich thanked Deputy Speaker Marinkovic for the opportunity to visit the National Assembly, saying that the ancestors of all the scientists who worked on the Apollo project came to the US from small places and they had not forgotten their origins. He added that the Serbs in the US can help strengthen the relationship between the two countries because they understand what Serbia can do and how talented a people Serbs are.
"We never forgot where we came from, our language, tradition and customs. We are proud of who we are and what we have achieved. It is time to "fly" our flag and tell the world who we are, which is what the project "You are the world" is about. The Serbian community in the US may not be big compared to others, but we have contributed a lot and the world should know it", said Vuich.
US Ambassador to Serbia Kyle Scott, who attended the meeting, said that the "You are the world" campaign aims to change public opinion because it speaks of decades of friendship between the two peoples which the public should be made aware of, especially by Americans of Serbian origins.
David Vuich is one of seven Serbian-Americans who worked on the Apollo programme and is visiting Serbia to mark the 50th anniversary of the Apollo 11 Moon landing.



---
---
monday, 28 september
No announcements for selected date