National Assembly of the Republic of Serbia / Activities / Activity details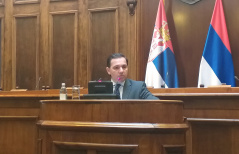 17 January 2020 National Assembly Deputy Speaker Prof. Dr Vladimir Marinkovic at the opening of the conference
Friday, 17 January 2020
National Assembly Deputy Speaker Prof. Dr Vladimir Marinkovic Opens National Avant-Garde Conference
Speaking at the conference "From Sarajevo assassination to April war – historical causes and geopolitical consequences", National Assembly Deputy Speaker Prof. Dr Vladimir Marinkovic said he was very pleased to be able to endorse the momentous gathering on behalf of the National Assembly.
---
"Serbs should be proud of the political results achieved between the two wars. In the turbulent aftermath of World War One our country pursued a wise foreign policy and was able to develop and choose diplomats to represent it in the right way on the international scene", said Marinkovic.
He said that Serbia continues to face big challenges to this very day, especially in the region, but thanks to President Aleksandar Vucic and his efforts it is in a better geopolitical position than in the previous period and enjoys a good relationship with all the important factors on the global political scene. Marinkovic added that it is the country's goal to pursue the policy of preserving national interests and of military and economic empowerment, without conflict with any other countries.
Deputy Speaker Marinkovic also spoke about the situation in Kosovo-Metohija, stressing that with its sensible policy and by gaining the trust of partners, Serbia has managed to put the question of its southern province back near the top of the international political agenda. "The core of our policy in Kosovo-Metohija is to preserve our religious, historical and cultural heritage and show that without Serbia's involvement there can be no solution", Marinkovic concluded.


---
---
monday, 23 may
No announcements for selected date