National Assembly of the Republic of Serbia / Activities / Activity details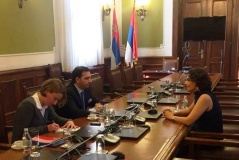 31 October 2016 National Assembly Deputy Speaker Prof. Dr Vladimir Marinkovic in meeting with Israeli Ambassador to Serbia H.E. Alona Fisher Kamm
Monday, 31 October 2016
National Assembly Deputy Speaker Prof. Dr Vladimir Marinkovic Meets with Israeli Ambassador to Serbia H.E. Alona Fisher Kamm
National Assembly Deputy Speaker and Head of the Parliamentary Friendship Group with Israel Prof. Dr Vladimir Marinkovic met today with Israeli Ambassador to Serbia H.E. Alona Fisher Kamm to discuss strengthening cooperation between the two countries.
---
Prof. Dr Marinkovic informed the Israeli Ambassador about the recently established 31-member Parliamentary Friendship Group with Israel, which had garnered the interest of both majority and opposition MPs. He said that it is very important to intensify cooperation between the two countries because they share a similar history and could build a common future. "Serbia can learn a lot from Israel which is the pillar of political stability in the Middle East", said the National Assembly Deputy Speaker. They also spoke about the construction of a memorial complex for the victims of the Staro Sajmiste concentration camp in WW2, an enterprise endorsed by both the relevant state authorities and NGOs, added Marinkovic.

The Israeli Ambassador informed Marinkovic of the invitation extended to the National Assembly Speaker Maja Gojkovic to pay an official visit to Israel and also invited all the members of the Parliamentary Friendship Group with Israel to meet at the Israeli Embassy in Belgrade and work on intensifying cooperation. The Ambassador said that a great many Israelis want to visit Serbia and not only as tourists, since they see the Western Balkans as an investment and business opportunity. She also informed Marinkovic about the visit of the Israeli Minister of Economy and the opportunity to discuss amendments to the Law on Avoidance of Double Taxation with respect to Taxes on Income.

The officials agreed that there is ample room to develop economic and advance political cooperation, also emphasising the importance of and need to preserve cultural heritage.


---
---
| M | T | W | T | F | S | S |
| --- | --- | --- | --- | --- | --- | --- |
| 27 | 28 | 29 | 30 | 31 | 1 | 2 |
| 3 | 4 | 5 | 6 | 7 | 8 | 9 |
| 10 | 11 | 12 | 13 | 14 | 15 | 16 |
| 17 | 18 | 19 | 20 | 21 | 22 | 23 |
| 24 | 25 | 26 | 27 | 28 | 29 | 30 |
| 31 | 1 | 2 | 3 | 4 | 5 | 6 |
friday, 7 august
No announcements for selected date