National Assembly of the Republic of Serbia / Activities / Activity details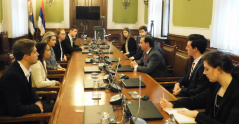 14 March 2018 National Assembly Deputy Speaker Prof. Dr Vladimir Marinkovic in meets with the US students
Wednesday, 14 March 2018
National Assembly Deputy Speaker Prof. Dr Vladimir Marinkovic Meets with Group of US students
National Assembly Deputy Speaker Prof. Dr Vladimir Marinkovic met today with a group of students from US Faculty of Political Science.
---
The Deputy Speaker briefed them on the National Assembly's modus operandi, history, tradition and heritage. He said that he dedicated to nurturing ties with the United States adding that this year's was the sixth Washington Prayer Breakfast in a row he had attended which is a clear indication of the ever improving relations between Serbia and the US.

The Deputy Speaker said that Serbia's strategic goal is to join the European Union as well as maintain friendly relations with big powers such as the US, Russia, China and the Arab countries.

The students had many questions about the parliamentary and electoral system, how coalitions are forged and laws passed. After the meeting they were taken on a tour of the National Assembly edifice to learn more about its cultural and historic significance.


---
---
wednesday, 8 july
No announcements for selected date