National Assembly of the Republic of Serbia / Activities / Activity details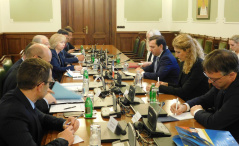 22 May 2018 National Assembly Deputy Speaker Prof. Dr Vladimir Marinkovic in meeting with the French Senate delegation
Tuesday, 22 May 2018
National Assembly Deputy Speaker Prof. Dr Vladimir Marinkovic Meets with French Senate Delegation
National Assembly Deputy Speaker Prof. Dr Vladimir Marinkovic met with the delegation of the French Senate's Committee for European Affairs currently in official visit to the Republic of Serbia.
---
On the occasion he highlighted Serbia's dedication to European integration and the importance of bilateral relations between the two countries. Marinkovic expressed a desire for more intensive interparliamentary cooperation and more frequent meetings with French parliamentarians. Speaking of economic and political reform he stressed that Serbia has already achieved some significant results and macroeconomic stability. Stressing that France, as one of ten foreign investors in Serbia was key for the success of the Nikola Tesla Airport concession, Marinkovic said he was pleased with the public-private partnership existing between the two countries. He said that full EU membership is Serbia's strategic priority which would create a new model of living standards in Serbia, as well as other aspects defining modern European countries.
The Chairman of the French Senate's Committee for European Affairs Jean Bizet was pleased that Serbia has managed to open 12 of the 35 EU negotiation chapters, stressing that the accession of Serbia, which lies in the heart of Europe and is economically very important, is vital for regaining balance in the Union. Bizet stated that France is Serbia's ally on the path to Europe, adding that the Union is at present focusing more on consolidation the relations between its member states than on the enlargement process, which is why they want to explain the importance of Serbia's accession.
Delegation members Simon Sutour and Claude Kern said that the purpose of today's meeting is deepen parliamentary diplomacy and give a positive perspective to Serbia' European integration, underlining their determination to convey the importance of Serbia's European integration for the EU.
Deputy Speaker Marinkovic said he hoped the bilateral relations between the two countries would continue to improve, as would the conditions for political cooperation, and that the existing partnership and friendship will be intensified.


---
---
wednesday, 8 july
No announcements for selected date