National Assembly of the Republic of Serbia / Activities / Activity details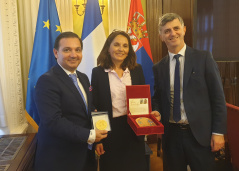 13 June 2019 National Assembly Deputy Speaker Prof. Dr Vladimir Marinkovic and the French parliamentary delegation
Thursday, 13 June 2019
National Assembly Deputy Speaker Prof. Dr Vladimir Marinkovic Meets with French Parliamentary Delegation
National Assembly Deputy Speaker Prof. Dr Vladimir Marinkovic welcomed his French colleagues saying that Serbia and France share a traditional friendship that managed to withstand many challenges, proving that true friendship and bilateral relations can survive in the face of challenges.
---
He added that interparliamentary relations are very dynamic, with many reciprocal visits between MPs involved with European integration and foreign affairs. He thanked France for its firm support of Serbia's efforts to join the EU, saying that European integration is the country's strategic priority. He said that enlargement should remain high on EU's list of priorities, adding that Serbia has so far opened 16 chapters and submitted negotiating positions for additional five. Marinkovic also spoke about the stalled dialogue between Belgrade and Pristina, endangered by the Pristina authorities. It is in Serbia's interest to continue the dialogue, he said, adding that he appreciates France being of the same opinion and that any solution the dialogue yields should be acceptable for both sides.
The Deputy Speaker went on to speak about strengthening regional cooperation and economic ties, adding that France is one of Serbia's most important economic partners. He also spoke about security cooperation, stressing that Serbia cooperates with France in four peace missions, and added that cultural cooperation, though high, could always be improved further. Speaking of cultural ties, Marinkovic said he hoped Serbia would change its status from associate to full member of the International Organization of la Francophonie.
The head of the French delegation Jacques Maire said that the two countries bilateral relations are good and that it is his objective, since he has been following the politics in the region in the last decades, to boost the visibility of the region and its capacities in France and the countries of Western Europe. He said that he and his colleague Liliana Tangui reviewed the European Commission's latest progress report and concluded that it lacks political momentum in certain areas such as the judiciary and media freedom. He said that the integration is slowed down by the issue of Kosovo-Metohija and that the stalled dialogue can yield no solution.
The Deputy Speaker said that the last EC Report's suggestions have already begun to be implemented and restated that the frozen relations between Belgrade and Pristina are in noone's interest and that Serbia counts on the support of EU countries.


---
---
wednesday, 15 july
13.00 - press conference of MPs Sasa Radulovic, Branka Stamenkovic and Vojin Biljic (National Assembly House, 13 Nikola Pasic Square, Central Hall)