National Assembly of the Republic of Serbia / Activities / Activity details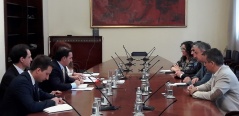 15 May 2017 National Assembly Deputy Speaker Prof. Dr Vladimir Marinkovic in meeting with the delegation of the National Assembly of the Republic of Srpska
Monday, 15 May 2017
National Assembly Deputy Speaker Prof. Dr Vladimir Marinkovic Meets with Delegation of the National Assembly of the Republic of Srpska
Prof. Dr Vladimir Marinkovic, Deputy Speaker of the National Assembly of the Republic of Serbia, and MPs Dubravka Filipovski and Goran Ciric, met today at the National Assembly with a delegation of the National Assembly of the Republic of Srpska to discuss the formation and operation of informal parliamentary groups.
---
Marinkovic said that informal parliamentary groups are an efficient tool for constructive solutions and achieving general consensus between representatives of different political parties on key issues concerning the development of the state and society.

Being the Head of the Economic Caucus, he mentioned as an example the 90 amendments submitted by the MPs, Caucus members, to key systemic laws such as the Law on Planning and Construction, Law on Investments, Energy Law, Law on Inspection Oversight, conducive to a speedier economic development of Serbia and better life of its people. Marinkovic added that the Caucus also prioritizes cooperation with local self-government units to achieve uniform economic development of all parts of Serbia.

Goran Ciric agreed that it is important to approach problems constructively through dialogue in informal groups and highlighted the importance of having the same stance within the group, regardless of political affiliation. Ciric stressed that he would encourage the Caucus to make the work on decentralisation and economic development of the local self-government units, one of its priorities.

Dubravka Filipovski, as a member of GOPAC Serbia, briefed the attending on the group's achievements during its four-years of operation and its activities as regards the realization of the action plan. Filipovski highlighted the group's initiative to set up the Public Finance Supervision Portal which allows for a more transparent oversight of budgetary income and expenses. She also underlined the importance of setting up regional branches of GOPAC, such as in Moldova and Bosnia and Herzegovina last year, as it enables cooperation in the fight against corruption.

The delegation, headed by MP Branislav Borenovic, said that the Serbian MPs' experiences are invaluable in view of the imminent formation of an informal anti-corruption team in the of the National Assembly of the Republic of Srpska. They concluded that the results achieved by the Serbian Parliament were important for the development of both the state and society, and hoped for a continued cooperation with the Serbian MPs.


---
---
| M | T | W | T | F | S | S |
| --- | --- | --- | --- | --- | --- | --- |
| 27 | 28 | 29 | 30 | 31 | 1 | 2 |
| 3 | 4 | 5 | 6 | 7 | 8 | 9 |
| 10 | 11 | 12 | 13 | 14 | 15 | 16 |
| 17 | 18 | 19 | 20 | 21 | 22 | 23 |
| 24 | 25 | 26 | 27 | 28 | 29 | 30 |
| 31 | 1 | 2 | 3 | 4 | 5 | 6 |
thursday, 13 august
No announcements for selected date