National Assembly of the Republic of Serbia / Activities / Activity details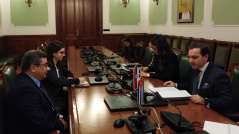 24 December 2019 National Assembly Deputy Speaker Prof. Dr Vladimir Marinkovic and Cuban Ambassador to Serbia Gustavo Trista del Todo
Tuesday, 24 December 2019
National Assembly Deputy Speaker Prof. Dr Vladimir Marinkovic Meets with Cuban Ambassador to Serbia
National Assembly Deputy Speaker Prof. Dr Vladimir Marinkovic met today at the National Assembly House with Cuban Ambassador to Serbia H.E. Gustavo Trista del Todo.
---
Recalling the traditionally good relations between the two countries, Marinkovic opined that the 44-strong PFG with Cuba attests to the MPs' interest in advancing friendly relations with the country.
Speaking of the two countries' excellent ties in agriculture, medicine, construction, IT and many other areas, he added that there is always room to advance and intensify economic and political cooperation.
"We should strengthen trade, cultural exchange and sports ties and encourage tourism because these are important in all segments of social life" the Deputy Speaker said.
Marinkovic said that the foreign policy pursued by the President, Government and Parliament reflects Serbia's wish to cooperate with anyone who considers it an equal political and economic partner.
The Deputy Speaker also thanked the Ambassador for Cuba's principled stance on Serbia's territorial integrity and sovereignty.
"There can be no solution in Kosovo without Serbia. Our country has legitimate interests on the territory because our cultural, historic and religious heritage is there" Marinkovic said.
Cuban Ambassador Gustavo Trista del Todo briefed the National Assembly Deputy Speaker on the political situation in Cuba, reminding him that the former Minister of Tourism Manuel Marrero Cruz was appointed Prime Minister, first in Cuban history in 43 years.
He said he was sure the Serbian and Cuban parliaments would maintain their relationship, adding that he expected reciprocal visits after the parliamentary elections and the establishment of new parliamentary legislature in Serbia.
The Ambassador agreed that there is room to advance economic cooperation and trade, especially in terms of medicine productions, stressing that Serbia can count on Cuba's political support as the country supports Serbia's position in the Kosovo issue.


---
---
monday, 16 may
No announcements for selected date