National Assembly of the Republic of Serbia / Activities / Activity details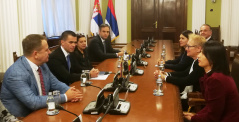 23 September 2019 National Assembly Deputy Speaker Djordje Milicevic in meeting with Romanian Ombudsperson Renate Weber
Monday, 23 September 2019
National Assembly Deputy Speaker Milicevic Meets with Romanian Ombudsperson
National Assembly Deputy Speaker Djordje Milicevic met at the National Assembly with Romanian Ombudsperson Renate Weber, currently visiting Serbia in official visit to the Serbian Ombudsman.
---
Deputy Speaker Milicevic welcomed the Romanian Ombudsperson on behalf of National Assembly Speaker Maja Gojkovic and himself, saying how pleased he was with the successful political and parliamentary cooperation between Serbia and Romania, closely followed by the good cooperation between the two independent institutions.
Milicevic praised the signing of the Memorandum of Understanding between the Serbian and Romanian ombudspersons and the establishment of Balkan Network of Ombudsmen which both Serbia and Romania are members of. He emphasized the importance of the successful cooperation between the Ombudsman and the National Assembly which elects the Ombudsman and to which he is accountable to.
Romanian Ombudsperson Renate Weber said that the institution of ombudsman is crucial for a democratic society and an exchange of experiences between the Serbian and Romanian independent institutions is very useful for the advancement of good practice and efficiency.
The meeting was also attended by Serbian Ombudsman Zoran Pasalic and Romanian Ambassador to Serbia Oana Cristina Popa.
The meeting was followed by a press conference.

---
---
friday, 9 december
No announcements for selected date