National Assembly of the Republic of Serbia / Activities / Activity details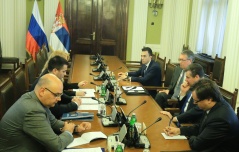 19 May 2017 The National Assembly Deputy Speaker in meeting with the Chairman of the Russian State Duma International Affairs Committee
Friday, 19 May 2017
National Assembly Deputy Speaker Meets with Russian State Duma International Affairs Committee Chairman
National Assembly Deputy Speaker Djordje Milicevic met today with the Chairman of the Russian State Duma International Affairs Committee Leonid Slutsky and on the occasion he said how pleased he was by the two parliaments' cooperation and the long standing friendly relations reflected in the two nations' strong ties.
---
Milicevic thanked the Russian Federation for its principled support in the Kosovo-Metohija issue and international cooperation on the path to stronger bilateral relations. He said that, though EU accession is one of Serbia's priorities, the country would not endorse the EU's sanctions against Russia instated in June 2014. Speaking of economic cooperation, Milicevic stressed that Serbia is interested in seeing a higher presence of Russian companies and capital on the Serbian market.

Russian State Duma International Affairs Committee Chairman Leonid Slutsky said that the two countries should pool their potentials in order to strengthen their bilateral cooperation. Slutsky suggested yearly joint sessions of the National Assembly's Foreign Affairs Committee and the Russian State Duma International Affairs Committee as a way to exchange opinions and strengthen ties. He also highlighted excellent cooperation the Russian delegation to the Parliamentary Assembly of the Council of Europe enjoys with the National Assembly's delegation.

The meeting was attended by Russian Ambassador to Serbia Alexander Chepurin.


---
---
| M | T | W | T | F | S | S |
| --- | --- | --- | --- | --- | --- | --- |
| 27 | 28 | 29 | 30 | 31 | 1 | 2 |
| 3 | 4 | 5 | 6 | 7 | 8 | 9 |
| 10 | 11 | 12 | 13 | 14 | 15 | 16 |
| 17 | 18 | 19 | 20 | 21 | 22 | 23 |
| 24 | 25 | 26 | 27 | 28 | 29 | 30 |
| 31 | 1 | 2 | 3 | 4 | 5 | 6 |
friday, 7 august
No announcements for selected date