National Assembly of the Republic of Serbia / Activities / Activity details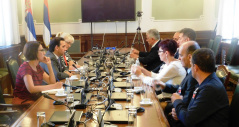 18 June 2018 National Assembly Deputy Speaker Prof. Dr Vladimir Marinkovic in meeting with the representatives of the trade union of Oil Refinery Pancevo
Monday, 18 June 2018
National Assembly Deputy Speaker Marinkovic Meets Again with Representatives of Oil Refinery Pancevo Trade Union
National Assembly Deputy Speaker Prof. Dr Vladimir Marinkovic met today at the National Assembly with a number of representatives of the Oil Refinery Pancevo trade union to discuss the results of the union's efforts to achieve a more efficient protection of workers' rights, protection against harassment, exercise the right to safe working conditions and just compensation for work done.
---
The union representatives thanked the National Assembly Deputy Speaker for his support and the previous consultations.
Prof. Dr Vladimir Marinkovic said that strong trade unions are essential for maintaining social dialogue and ensuring that workers' rights and collective contracts are respected. He said that the National Assembly is striving to, through its legislative work, improve working conditions, the position and standard of workers and the quality of business dealings in Serbia.

---
---
wednesday, 23 september
No announcements for selected date