National Assembly of the Republic of Serbia / Activities / Activity details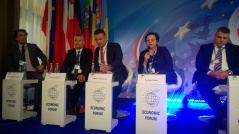 5 September 2018 National Assembly Deputy Speaker Gordana Comic to Take Part in 28th Economic Forum in Poland
Wednesday, 5 September 2018
National Assembly Deputy Speaker Gordana Comic to Take Part in 28th Economic Forum in Poland
Gordana Comic, Deputy Speaker of the National Assembly of the Republic of Serbia and member of the European Integration Committee, will be taking part in the 28th Economic Forum in Krynica, Poland, 4-6 September 2018.
---
The main topic for the 28th Economic Forum is "A Europe of Common Values or A Europe of Common Interests?". Deputy Speaker Comic spoke at the panel entitled "The Balkan States in the European Union. Is It Still Possible?", and the panel on gender equality.
Speaking of the Western Balkans' EU prospects, Comic said that accession a certainty despite the challenges the EU is currently facing. That is why it is important that the current generation of politicians in the region make decisions about the common future with high degree of awareness of the responsibility these entail.
The participants of the panel agreed that the 2025 deadline set for Serbia's and Montenegro's EU accession is an attainable goal and that the enlargement policy should remain the Union's leading policy.
The Economic Forum in Krynica is the largest conference in Central and Eastern Europe. This year the Forum is attended by more than 4000 participants - political, economic and social leaders, representatives of the academic community and NGOs, as well as more than 500 journalists from over 60 countries in Europe, Asia and America.


---
---
wednesday, 15 july
No announcements for selected date