National Assembly of the Republic of Serbia / Activities / Activity details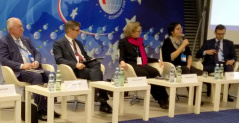 25 January 2019 National Assembly Deputy Speaker Gordana Comic at the 12th Europe-Ukraine Forum
Friday, 25 January 2019
National Assembly Deputy Speaker Gordana Comic at 12th Europe-Ukraine Forum
The Institute for Eastern Studies organized the 12th Europe – Ukraine Forum in Rzeszów, Poland, 24-25 January 2019, with the topic "Ukraine After 2019. A Change or a Continuation?".
---
National Assembly Deputy Speaker and member of the European Integration Committee Gordana Comic spoke at the plenary session and the panel discussion with the topic "Integration or Disintegration. Where is Europe Going?" on Friday, 25 January 2019.
Marshal of the Polish Sejm (Parliament) Marek Kuchcinski, Swedish MP Margareta Cederfelt, Slovak MP Martin Fedor and former Ukrainian Foreign Minister Boris Tarasyuk spoke at the plenary.
Speaking at the plenary, Comic emphasized the importance of preserving the European Union as the peace project that brought peace and economic prosperity to millions of Europeans. The challenges the Union is faced with today are many and serious and demand new solutions found through democratic dialogue and within democratic institutions. She said that the EU is Serbia's number one foreign trade partner and most important ally which all makes the continuation of the EU enlargement policy very important only for Serbia by the for the whole Western Balkan region.
The participants of the plenary spoke about maintaining unity within the European Union in light of UK's coming exit from it, and the importance of respecting the principle of equality of all the EU member states no matter what decisions about the Union's future are ultimately made.
The forum was attended by hundreds of participants from more than 30 countries, representatives of governments, parliaments, universities and scientific institutes. The Forum's panels were dedicated to the economic, political, security and social aspects of the relationship between Europe and Ukraine, the future of the EU and the enlargement policy.


---
---
thursday, 24 september
No announcements for selected date