National Assembly of the Republic of Serbia / Activities / Activity details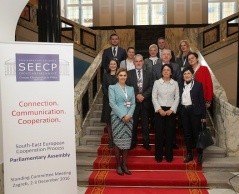 3 December 2016 The National Assembly Deputy Speaker at the meeting of the SEECP PA Standing Committee in Zagreb
Monday, 5 December 2016
National Assembly Deputy Speaker Gordana Comic Takes Part in SEECP PA Standing Committee Meeting in Zagreb
National Assembly Deputy Speaker and substitute member of the National Assembly standing delegation to the South East Europe Cooperation Process Parliamentary Assembly (SEECP PA) Gordana Comic took part in the meeting of the SEECP Parliamentary Assembly Standing Committee, on 3 December 2016, in the Croatian Parliament (Sabor) in Zagreb, under the auspices of Croatia's presidency of the South East Europe Cooperation Process.
---
At the beginning of the meeting, the members of the parliaments of the SEECP member states were greeted by Croatian Parliament's Deputy Speaker Gordan Jandrokovic who said he was sure Croatia's presidency of the Process would contribute to the development of cooperation in the region and strengthening of good-neighbourly relations. Jandrokovic spoke of the priorities of Croatia's presidency: working on the institutionalisation and boosting the visibility of the SEECP Parliamentary Assembly, support for EU membership, strengthening cooperation between the Parliamentary Assembly and other interparliamentary assemblies, European Parliament and the Regional Cooperation Council, and the comprehensive work of the Parliamentary Assembly's general committees. He hopes that the foundations of the European Union would remain strong and that the enlargement policy would continue.

The Standing Committee went on to exchange views and suggestions for cooperation with Regional Cooperation Council Secretary General Goran Svilanovic. On the occasion, Svilanovic briefed the attending on the Regional Cooperation Council's work, priorities for the next three years and ongoing projects and activities.

National Assembly Deputy Speaker Gordana Comic commended the progress of cooperation in the region, the work of the SEECP Parliamentary Assembly, level of governmental cooperation, Berlin Process and all the agreements signed for the benefit of the citizens of the region. The Deputy Speaker hopes that soon all the regional processes and achievements, improved cooperation and joint projects would be seen by the whole region as a common asset and the biggest common interest for the future. Deputy Speaker Comic said she was sure the story of EU enlargement fatigue would come to an end saying she could not understand fatigue from the highest standards of living, business, human rights, liberties and security. The members of the Standing Committee concluded that the European Union needs to find a way to protect the achieved standards and European integration values, and that all the remaining South East Europe countries should become EU members.

Finally, the Standing Committee deliberated on and adopted the topics on the agenda for the SEECP PA general committees, appointed rapporteurs and discussed the outstanding issues concerning the candidacies for Secretariat seat and the work of the SEECP Parliamentary Assembly.


---
---
| M | T | W | T | F | S | S |
| --- | --- | --- | --- | --- | --- | --- |
| 27 | 28 | 29 | 30 | 31 | 1 | 2 |
| 3 | 4 | 5 | 6 | 7 | 8 | 9 |
| 10 | 11 | 12 | 13 | 14 | 15 | 16 |
| 17 | 18 | 19 | 20 | 21 | 22 | 23 |
| 24 | 25 | 26 | 27 | 28 | 29 | 30 |
| 31 | 1 | 2 | 3 | 4 | 5 | 6 |
thursday, 13 august
No announcements for selected date