National Assembly of the Republic of Serbia / Activities / Activity details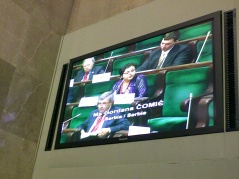 21 April 2012 National Assembly Deputy Speaker Gordana Comic addresses the Conference of Speakers of the European Union Parliaments
Monday, 23 April 2012
National Assembly Deputy Speaker Gordana Comic Takes Part in EU Parliament Speakers Conference
National Assembly Deputy Speaker Gordana Comic took part in the Conference of Speakers of the European Union Parliaments, organised by the Sejm and Senate of the Republic of Poland and held in Warsaw from 19 to 21 April 2012. The Conference was chaired by Ewa Kopacz, Marshal of the Sejm and Bogdan Borusewicz, Marshal of the Polish Senate.
---
The Conference was attended by the speakers and representatives of the parliaments of all EU member states, six candidate countries (Serbia, Montenegro, Croatia, Macedonia, Turkey and Iceland), as well as the Vice President of the European Parliament. This is the first time the National Assembly of the Republic of Serbia had taken part in this type of regular gathering of parliamentary representatives at the highest level. Among others, the participants of the Conference were addressed by Donald Tusk, Prime Minister of the Republic of Poland.
In the course of the Conference, the participants discussed the crisis of the European unity, parliamentary control of the Common Foreign and Security Policy and Common Security and Defence Policy, the Treaty on the stability, coordination and governance in Economic and Monetary Union and the relationship between the parliament, public opinion and the media. At the end of the Conference the participants adopted the Presidency Conclusions, item 1 of which noted that "The representative of the Parliament of the Republic of Serbia attended the Conference for the first time after the Republic of Serbia had been granted candidate status in 2012".

---
---