National Assembly of the Republic of Serbia / Activities / Activity details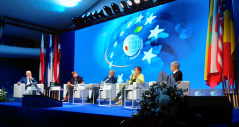 5 September 2019 National Assembly Deputy Speaker Gordana Comic at the 29th Economic Forum in Poland
Friday, 6 September 2019
National Assembly Deputy Speaker Gordana Comic Takes Part in 29th Economic Forum in Poland
Gordana Comic, Deputy Speaker of the National Assembly of the Republic of Serbia and member of the European Integration Committee, took part in the 29th Economic Forum in Krynica, Poland, 3-5 September 2019.
---
Deputy Speaker Comic spoke at the plenary session entitled "History comes knocking: economy and politics". Latvian Parliament Vice-Speaker Dagmara Beitnere Le-Galla, Polish Minister of Investment and Economic Development Jerzy Kwiecinski and Deputy Chairman of the Ukrainian Supreme Council (Verkhovna Rada – Parliament) Committee on Foreign Affairs Borys Tarasyuk also spoke at the panel.
The plenary session focused on globalization and scientific development, the relationship between the state and religion in Central and Eastern Europe, economic relations and growth in this part of Europe.
Deputy Speaker Comic said that economic growth and political stability are the vital for the development of the European idea and integration. Speaking about resolving the crisis of the European idea she said that voters are reacting to the difficulties and crisis by turning to populism and isolationism. The political elite which is supposed to influence people and their system of values should oppose these ideas. The history of the 20th century has shown us that conflicts can be overcome by dialogue and cooperation within the most successful international project that is the European Union. The EU enlargement policy, the cornerstone of integration, is the Union's most successful policy and the enlargement process should continue in the future.
The participants of the plenary session agreed that the historical context of the political and economic relations in Europe need to be taken into consideration in the creation of new policies in these areas.
Deputy Speaker Comic also spoke at the panel on women leaders in the context of the new vision of leaders for the 21st century which focused on women's new role in society and options for putting more women in positions of power in the economy and politics.
The Economic Forum is organized by the Warsaw Institute for Eastern Studies. It is attended by over 4000 participants - representatives of parliaments, governments, chambers of commerce, EU institutions and the academic community who, in 140 panels, discuss the role of the state in the economy, future of the European Union, new role of the EU and its further enlargement, role of the media in light of globalization, crisis of democracy, sustainable development and the vision of the leader for the 21st century.


---
---
monday, 16 may
No announcements for selected date