National Assembly of the Republic of Serbia / Activities / Activity details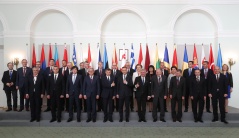 (photo: Pawel Kula) 17 May 2017 National Assembly Deputy Speaker Djordje Milicevic at the meeting of Central and Eastern Europe Parliament Speakers
Thursday, 18 May 2017
National Assembly Deputy Speaker Djordje Milicevic at Meeting of Central and Eastern Europe Parliament Speakers
Djordje Milicevic, Deputy Speaker of the National Assembly of the Republic of Serbia, is taking part in the meeting of Parliament Speakers of Central and Eastern Europe organised in Warsaw by the Polish Parliament, with the topics: role of national parliaments in international politics, regional security, cooperation on the infrastructural development of the north--south axis and Central and Eastern European values.
---
Speaking at the first panel - Role of national parliaments in international politics, Deputy Speaker Djordje Milicevic highlighted the rising importance of the parliament and parliamentary diplomacy in the global context. He stressed that the Republic of Serbia advocates a common, comprehensive and united approach to modern challenges such as the economic crisis and instability, migration, terrorism, global climate change, to which the National Assembly of the Republic of Serbia gives its full contribution. Deputy Speaker Milicevic underlined the central position of the parliament in democratic societies and its key role in promoting and sustaining international peace and security through interparliamentary dialogue.

Deputy Speaker Milicevic met with Polish President Anrzej Duda and the leadership of the Polish Parliament's Committee on EU Affairs.

There was also a meeting with Georgian Parliament Speaker Irakli Kobakhidze, where the readiness to improve overall bilateral relations and intensify parliamentary cooperation at the highest level, as well as at the level of working bodies was emphasized, as well as the importance of upholding the principle of territorial integrity and sovereignty of states. Our side thanked Georgia for not recognizing the unilaterally declared independence of Kosovo, and also presented Serbia's reform processes and foreign policy priorities.

The meeting is attended by the parliamentary speakers of Poland, the host, then Bosnia and Herzegovina, Georgia, Hungary, Moldova, Montenegro, Romania and Ukraine, the deputy speakers of Serbia, Azerbaijan, Albania, Bulgaria, Croatia, Latvia, Lithuania, Slovakia, and parliamentary representatives of Turkey and Greece.


---
---
friday, 4 december
No announcements for selected date