National Assembly of the Republic of Serbia / Activities / Activity details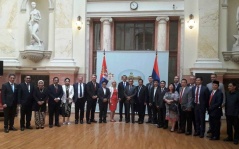 11 August 2017 National Assembly Deputy Speaker Djordje Milicevic and the members of the PFG with Indonesia in meeting with the Indonesian parliamentary delegation
Friday, 11 August 2017
National Assembly Deputy Speaker Djordje Milicevic and Members of PFG with Indonesia Meet Indonesian Parliamentary Delegation
National Assembly Deputy Speaker Djordje Milicevic and the members of the PFG with Indonesia met today with an Indonesian parliamentary delegation headed by the Deputy Chairman of the Committee on Defence, Foreign and Information Affairs Asril Hamzah Tanjung.
---
Deputy Speaker Milicevic welcomed the representatives of the Indonesian Parliament emphasizing the importance of the traditional friendship and good diplomatic relations between Serbia and Indonesia. Milicevic thanked the delegation for the Republic of Indonesia's principled stance on the status of Kosovo-Metohija and maintenance of good inter-religious relations, good parliamentary and economic cooperation, as well as cooperation in the sphere of culture, mentioning to that effect the 10 scholarships offered to Serbian students by the Government of the Republic of Indonesia.
The Deputy Chairman of the Indonesian Parliament's Committee on Defence, Foreign and Information Affairs Asril Hamzah Tanjung said that the Republic of Serbia is, first and foremost, a great friend and partner, adding that the cooperation between the two countries is excellent and shows a tendency for further improvement. Tanjung also emphasized the importance of the agreement on visa-free regime for service and diplomatic passport bearers, hoping it would be put into action as soon as possible. Speaking of education, he stressed the Republic of Indonesia offers many other scholarship programmes, expected to develop further in the future. Tanjung also highlighted the importance of trade and investment and exchanging visits as a road to even better interparliamentary cooperation.
---
---
| M | T | W | T | F | S | S |
| --- | --- | --- | --- | --- | --- | --- |
| 27 | 28 | 29 | 30 | 31 | 1 | 2 |
| 3 | 4 | 5 | 6 | 7 | 8 | 9 |
| 10 | 11 | 12 | 13 | 14 | 15 | 16 |
| 17 | 18 | 19 | 20 | 21 | 22 | 23 |
| 24 | 25 | 26 | 27 | 28 | 29 | 30 |
| 31 | 1 | 2 | 3 | 4 | 5 | 6 |
saturday, 15 august
No announcements for selected date