National Assembly of the Republic of Serbia / Activities / Activity details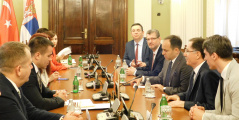 12 July 2018 National Assembly Deputy Speaker Djordje Milicevic talks to the Turkish Chief Ombudsman
Thursday, 12 July 2018
National Assembly Deputy Speaker Djordje Milicevic Talks to Turkish Chief Ombudsman
National Assembly Deputy Speaker Djordje Milicevic met today with Turkish Chief Ombudsman Şeref Malkoç, currently in official visit to Serbian Ombudsman MA Zoran Pasalic.
---
Deputy Speaker Milicevic said that the bilateral relations between Serbia and Turkey have reached an all-time high, adding how pleased he was the successful political, parliamentary and economic cooperation is now joined by cooperation between the two countries' independent institution of Ombudsman.
Djordje Milicevic briefed the guest on the National Assembly's recent legislative activity and the relationship between the Ombudsman and the National Assembly. The National Assembly elects and dismisses the Ombudsman and supervises the institution's work by reviewing the annual report the Ombudsman submits to the relevant Committee on Human and Minority Rights and Gender Equality. Once the report is reviewed, the Committee submits a conclusion proposal to the National Assembly which is then reviewed at the plenary session.
The National Assembly Deputy Speaker also informed the Turkish Ombudsman about the document entitled Belgrade Principles adopted at an international conference on the relationship between national parliaments and institutions for the protection and promotion of human rights, hosted by the National Assembly in 2012.
Turkish Chief Ombudsman Şeref Malkoç said how important it is to cooperate with the Serbian Ombudsman and exchange experiences and best practice examples. He informed Deputy Speaker Milicevic about the initiative to set up a Balkan Network of Ombudsmen which would contribute to state of human rights in the Balkans and help maintain peace and stability in the region.
The meeting was attended by members of the Committee on Human and Minority Rights and Gender Equality Elvira Kovacs and Milena Turk, as well as Ombudsman MA Zoran Pasalic and associates, and Turkish Ambassador to Serbia Tanju Bilgiç.

---
---
wednesday, 15 july
13.00 - press conference of MPs Sasa Radulovic, Branka Stamenkovic and Vojin Biljic (National Assembly House, 13 Nikola Pasic Square, Central Hall)