National Assembly of the Republic of Serbia / Activities / Activity details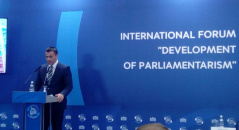 5 June 2018 National Assembly Deputy Speaker Djordje Milicevic at the International Forum for the Development Parliamentarianism
Tuesday, 5 June 2018
National Assembly Deputy Speaker Djordje Milicevic Takes Part in Development of Parliamentarianism International Forum for in Moscow
The Deputy Speaker of the National Assembly of the Republic of Serbia Djordje Milicevic is taking part in the International Forum for the Development Parliamentarianism in Moscow, 4-5 June, at the invitation of the Speaker of the Russian State Duma Vyacheslav Volodin. The forum is attended by over 85 countries in the world as well as 14 international parliamentary delegations.
---
Speaking at the panel on "Strengthening international security – the role of parliaments" Deputy Speaker Milicevic said that modern security challenges are becoming transnational and global and as such require a concentrated and comprehensive approach. The fight against the three evils of separatism, terrorism and extremisms is vital. Combating terrorism in the Republic of Serbia is regulated by the Criminal Code and the Law on Criminal Procedure and that the amendments and modifications to the Criminal Code the National Assembly passed in 2014 stipulates that the participation of a Serbian national in a war or armed conflict in a foreign country is a criminal offense punishable by jail.
Milicevic also said that the Serbian Government had passed the National Strategy for the Prevention and Countering of Terrorism for the period 2017-2021 and an Action Plan for its implementation. Serbia is open to cooperation, within its capacities, in the global fight against terrorism and extremism and recognizes the United Nations as the key forum for active engagement in this matter. The country supports all the adopted UN General Assembly counter-terrorism resolutions and the efforts of the international community to combat this global phenomenon.
National Assembly Deputy Speaker Djordje Milicevic said that the Republic of Serbia contributes to the preservation of peace and security through engagement in multinational operations and takes part in UN and EU multinational operations. Milicevic took part in the forum's press-conference and gave an interview for Russia – 1 in which he emphasized the excellent bilateral relations between the Republic of Serbia and the Russian Federation. He also thanked the Russian Federation for its principled stance on Serbia's territorial integrity and sovereignty. He also spoke about the outstanding interparliamentary cooperation and the Russian State Duma - National Assembly of the Republic of Serbia Cooperation Commission. He highlighted the fact that the Parliamentary Friendship Group with Russia boasting 128 MPs is the largest at the National Assembly.
Under the auspices of the Forum, National Assembly Deputy Speaker Djordje Milicevic met with Duma member Ilya Vladimirovich Osipov. The two officials spoke about the traditionally good and friendly relations and the cultural and historical closeness between the two countries, mentioning that this year marks the 180th anniversary of diplomatic relations.


---
---
monday, 28 september
No announcements for selected date