National Assembly of the Republic of Serbia / Activities / Activity details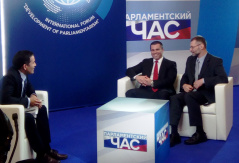 5 June 2018 National Assembly Deputy Speaker Djordje Milicevic on day two of the International Forum for the Development Parliamentarianism
Tuesday, 5 June 2018
National Assembly Deputy Speaker Djordje Milicevic Takes Part in Day Two of Development of Parliamentarianism International Forum for in Moscow
On day two of the International Forum for the Development Parliamentarianism in Moscow, National Assembly Deputy Speaker Djordje Milicevic gave an interview for the State Duma parliamentary channel in which he emphasized the excellent political relations between the Republic of Serbia and the Russian Federation and their dynamic and intensive parliamentary cooperation.
---
He opined that the Russian Federation is one of Serbia's most important partners in the defence of its state and national interests, territorial integrity and sovereignty and thanked the Russian Federation for its clear and principled stance. Milicevic said that excellent political relations have created a stable groundwork for the improvement of cooperation across the board. Russia is today one of Serbia's most important economic partners, both as an export destination and foreign investor. Serbia considers economic cooperation a top priority and is very interested in seeing an increase in Russian capital and companies on its market.
Milicevic said that Serbia's political and economic stability along with the Government's incentives for potential investors and its efficient bureaucratic system make the country an attractive investment destination. There is also room to improve bilateral cooperation in the fields of energy, agriculture, infrastructure, tourism and more.
On day two of the International Forum for the Development Parliamentarianism, the Deputy Speaker of the National Assembly of the Republic of Serbia Djordje Milicevic took part in the panel on the parliamentary dimension of youth policy. He said that the Republic of Serbia pays special attention to the youth as evidenced in the fact that it has a Ministry of Youth and Sport as the institutional framework for youth policy at the national level. The Law on Youth was passed after extensive consultations with young people themselves. He spoke of the 2015-2015 National Youth Strategy and the attention Serbia pays to young talents. National Assembly Deputy Speaker Milicevic also said that it is very important to inform the youth about the UN Sustainable Development Goals and include young people in their implementation. He also emphasized the importance of the Western Balkans Regional Youth Cooperation Office. Deputy Speaker Milicevic highlighted the importance of bilateral cooperation with the Russian Federation on youth-related issues.
National Assembly Deputy Speaker Djordje Milicevic is also planned to meet with the Head of the Duma's PFG with Serbia Valeriy Ivanov.


---
---
thursday, 24 september
No announcements for selected date