National Assembly of the Republic of Serbia / Activities / Activity details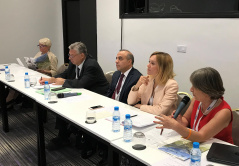 6 October 2019 The meeting of the Silk Road Support Group
Monday, 7 October 2019
National Assembly Delegation to OSCE PA at 7th Silk Road Support Group Meeting
MPs and members of the National Assembly's standing delegation to the OSCE PA Stefana Miladinovic and Dusica Stojkovic took part in the 7th meeting of the Silk Road Support Group organized under the auspices of the OSCE PA Autumn Meeting held 4 – 6 October in Marrakech, Kingdom of Morocco.
---
The Silk Road Support Group discussed its upcoming activities and decided to hold its 5th international conference in Serbia in September 2020.
Stefana Miladinovic, Vice-Chair of the Silk Road Support Group, thanked her colleagues, hoping that by organizing the conference the National Assembly of the Republic of Serbia will contribute to a better understanding of the Belt and Road Initiative.

"I believe that the Silk Road Support Group can greatly contribute to finding a solution to the global economic crisis. Though mainly focused on infrastructure, this initiative also has important economic, social and environmental aspects", said Stefana Miladinovic in her address.
She also mentioned the infrastructural projects realized in the Republic of Serbia under the Belt and Road Initiative which Serbia considers highly important.
The OSCE PA Silk Road Support Group was established in Minsk in 2017 to provide support to the development of economic cooperation and promote economic and trade ties, multimodal transport corridors, as well as free and secure movement of persons, goods, services and capital.


---
---
friday, 2 december
8.15 - the National Assembly Speaker meets with the EU Commissioner for Neighbourhood and Enlargement (National Assembly House, 13 Nikola Pasic Square, hall 1)

11.00 - sitting of the Health and Family Committee (National Assembly House, 13 Nikola Pasic Square, hall 3)

11.00 - sitting of the Committee on Agriculture, Forestry and Water Management (National Assembly House, 13 Nikola Pasic Square, hall 4)

12.00 - sitting of the Committee on the Economy, Regional Development, Trade, Tourism and Energy (National Assembly House, 13 Nikola Pasic Square, hall 2)

13.00 - press conference of MP Prof. Dr Janko Veselinovic (National Assembly House, 13 Nikola Pasic Square, Central Hall)

13.00 - the National Assembly Speaker meets with the Russian Ambassador to Serbia (National Assembly House, 13 Nikola Pasic Square, hall 1)

16.00 - sitting of the Committee on Constitutional and Legislative Issues (National Assembly House, 13 Nikola Pasic Square, hall 3)

16.00 - sitting of the European Integration Committee (National Assembly House, 13 Nikola Pasic Square, hall 2)