National Assembly of the Republic of Serbia / Activities / Activity details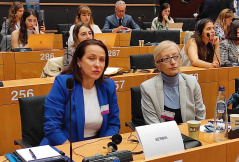 7 June 2023 National Assembly Deputy Speaker Snezana Paunovic and Foreign Affairs Committee Deputy Chairperson Marina Ragus
Wednesday, 7 June 2023
National Assembly Delegation at Women Political Leaders Summit 2023
National Assembly delegation is taking part in the Women Political Leaders Summit 2023 held in the European Parliament and the Belgian Federal Parliament on 7 and 8 June 2023.
---
The delegation comprises National Assembly Deputy Speaker Snezana Paunovic and Foreign Affairs Committee Deputy Chairperson Marina Ragus.
The main topics of the Summit are the role of women in preserving peace and security, war and oppression, spreading fake news, reaffirmation of the United Nations Charter, representation of women in political and social life, violence against women and sexism in politics. In the course of the Summit, awards will be presented to the most deserving individuals in the protection of women's rights.
The national delegations will have the opportunity to present the position of women in their countries and the degree of representation of women in the Parliament and government executive bodies, political and social life, as well as the current constitutional and legal solutions in the protection of women's rights.
More than 60 parliamentary delegations from countries around the world are taking part in the Summit, with the presence of a large number of heads and deputy heads of parliament, current and former presidents of states and prime ministers, as well as high-ranking officials of the European Union, United Nations, NATO and numerous international non-governmental organisations.
---
---
monday, 2 october
10.40 - the National Assembly Speaker's address at the event "Joy of Europe" (National Assembly House, 13 Nikola Pasic Square, Central Hall)

12.00 - continuation of the sitting of the Committee on the Economy, Regional Development, Trade, Tourism and Energy (National Assembly House, 13 Nikola Pasic Square, hall 2)

14.15 - the National Assembly Speaker meets with a delegation of rapporteurs of the Parliamentary Assembly of the Council of Europe Monitoring Committee (National Assembly House, 13 Nikola Pasic Square, hall 1)

16.00 - the heads of the parliamentary groups meet with the delegation of rapporteurs of the Parliamentary Assembly of the Council of Europe Monitoring Committee (National Assembly Building, 14 Kralja Milana Street, Blue Salon)

17.45 - the members of the Committee on Constitutional and Legislative Issues meet with the delegation of rapporteurs of the Parliamentary Assembly of the Council of Europe Monitoring Committee (National Assembly Building, 14 Kralja Milana Street, Blue Salon)