National Assembly of the Republic of Serbia / Activities / Activity details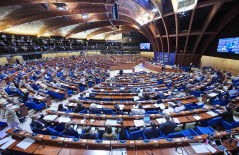 27 June 2019 PACE June Session (photo ©Council of Europe)
Thursday, 27 June 2019
National Assembly Delegation at PACE June Session
The National Assembly's standing delegation to the Parliamentary Assembly of the Council of Europe is taking part in the PACE June Session in Strasbourg, 23 – 28 June 2019.
---
On day three of the plenary, the Russian delegation returned to the Parliamentary Assembly of the Council of Europe as the previously adopted decisions approved its return with none of the limitations in force during the previous four years. The debate, especially in the plenary, was marked by a pronounced polarization of views as regards the potential conditioning of the Russian delegation's return. The head of the Serbian delegation Dr Aleksandra Tomic and delegation members Biljana Pantic Pilja and Aleksandar Seselj supported the return of the Russian delegation, principles of dialogue and inclusion and the right of the people of Russia to have representatives in PACE. The Resolution that enabled the return of the Russian parliamentary delegation to PACE was passed by 116 votes in favour and 62 against.
PACE passed the report "Towards an ambitious Council of Europe agenda for gender equality" and the report on the implementation of the Istanbul Convention, with MP Elvira Kovacs, Chairperson of the PACE Committee on Equality and Non-Discrimination, as rapporteur. She presented Serbia's best practice concerning combating domestic violence and significant gender equality improvements. MPs Stefana Miladinovic and Biljana Pantic Pilja took part in the debate, speaking of the improvement of legislative framework and gender-responsive mechanisms and measures Serbia achieved in the previous period and presented the National Assembly's related activities, first and foremost through the activity of the Women's Parliamentary Network.
MP Stefana Miladinovic spoke on the report "Stop violence against, and exploitation of, migrant children" who presented Serbia's pervious and ongoing activities and experiences related to the migrant crisis, underlining the country's readiness to share its experience and best practice in the area.
Portuguese President Marcelo Rebelo de Sousa spoke about the importance of the Council of Europe for the democratic consensus, endorsed preserving and deepening the Council of Europe's pan-European heritage and discerning between what must be preserved and what must be reformed with a vision for the future.
In the course of the plenary, the National Assembly's standing delegation also had a series of meetings with PACE national delegations.

Croatian candidate Marija Pejcinovic Buric was elected new Secretary General of the Council of Europe.
The delegation headed by Dr Aleksandra Tomic comprised MPs Biljana Pantic Pilja, Stefana Miladinovic, Elvira Kovacs, Aleksandar Seselj and Branka Stamenkovic.


---
---
tuesday, 4 october
10.00 - press conference of the GREEN – LEFT CLUB, DON'T LET BELGRADE D(R)OWN, WE HAVE TO Parliamentary Group (National Assembly House, 13 Nikola Pasic Square, Central Hall)

11.00 - sitting of the Committee on Education, Science, Technological Development and the Information Society (National Assembly House, 13 Nikola Pasic Square, hall 3)

11.00 - sitting of the Committee on Finance, State Budget and Control of Public Spending (National Assembly House, 13 Nikola Pasic Square, hall 2)

12.00 - press conference of MP Tatjana Manojlovic (National Assembly House, 13 Nikola Pasic Square, Central Hall)

12.15 - press conference of the HOPE – NEW DSS – POKS Parliamentary Group (National Assembly House, 13 Nikola Pasic Square, Central Hall)