National Assembly of the Republic of Serbia / Activities / Activity details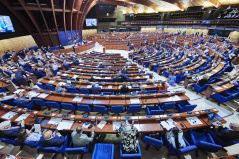 25 June 2019 PACE June Session (photo ©Council of Europe)
Tuesday, 25 June 2019
National Assembly Delegation at PACE June Session
The National Assembly's standing delegation to the Parliamentary Assembly of the Council of Europe took part in the PACE June Session in Strasbourg, 23 – 28 June 2019.
---
The delegation headed by Dr Aleksandra Tomic comprised MPs Biljana Pantic Pilja, Stefana Miladinovic, Elvira Kovacs, Aleksandar Seselj and Branka Stamenkovic.

Petra De Sutter's report on "Strengthening the decision-making process of the Parliamentary Assembly concerning credentials and voting" was of special interest, the adoption of which was conducted in the context of strengthening cooperation between PACE and the Council of Europe, as well as the return of the Russian delegation to the PACE. The head of the Serbian delegation Dr Aleksandra Tomic and delegation members Biljana Pantic Pilja and Aleksandar Seselj took part in the dynamic and lengthy debate on the report, marked by a pronounced polarization of views, stressing that the National Assembly delegation supports the principles of open dialogue and equal participation of the elected representatives of all PACE member states to ensure the protection and exercise of the organization's core values – democracy, rule of law and human rights, upholding international law and overcoming outstanding concerns. In the interest of recognizing the right of all the delegations of the PACE member states to vote, speak and be represented in the PACE, the delegation of the Russian Federation rejoined PACE.
The head of the Serbian delegation Dr Aleksandra Tomic emphasized the National Assembly delegation's unwavering support of the return of the Russian delegation, as well as representation and participation as the fundamental principles of PACE. She said that the adoption of the proposed resolution is in line with the duty to maintain the visibility, relevance and reputation of the organization, especially in the context of the 70th anniversary of the Council of Europe. MP Biljana Pantic Pilja said she supported the principles of international law and the rights of MPs in international organizations, and criticized the hypocrisy of their inconsistent application, especially in the case of certain countries' support of the attempt of illegal unilateral secession of Kosovo-Metohija. MP Aleksandar Seselj spoke in favour of reinstituting the rights of the Russian delegation and overcoming conflict by democratic means, especially dialogue, stressing that territorial issues fall outside of the Council of Europe's scope.
The PACE Committee on Political Affairs and Democracy adopted the initiative to draft a report on the topic ascertained in the previous reporting period, "Situation in Kosovo*", the rapporteur for which will be appointed at a later date.
The PACE will also be electing a new Secretary General of the Council of Europe, between candidates Didier Reynders (Belgium) and Marija Pejcinovic Buric (Croatia).


---
---
friday, 30 september
9.30 - press conference of MP Nebojsa Zelenovic (National Assembly House, 13 Nikola Pasic Square, Central Hall)

12.00 - National Assembly Deputy Speaker Sandra Bozic speaks at the opening of the children's exhibition on the topic: Bridge of Understanding – Intergenerational Solidarity (National Assembly House, 13 Nikola Pasic Square, Central Hall)

13.30 - National Assembly Deputy Speaker Sandra Bozic meets with the First Secretary of the UK Embassy in the Republic of Serbia (National Assembly House, 13 Nikola Pasic Square, hall 3)

14.00 - press conference of MP Radmila Vesic (National Assembly House, 13 Nikola Pasic Square, Central Hall)

14.15 - press conference of MP Dragan Nikolic (National Assembly House, 13 Nikola Pasic Square, Central Hall)