National Assembly of the Republic of Serbia / Activities / Activity details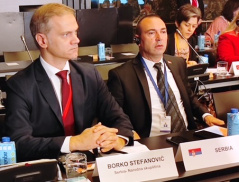 2 October 2023 The National Assembly delegation at the Interparliamentary Conference on the CFSP/SCDP
Monday, 2 October 2023
National Assembly Delegation at Interparliamentary Conference on CFSP/SCDP
National Assembly Deputy Speaker and Chairman of the Foreign Affairs Committee Borko Stefanovic and the Deputy Chairman of the Defence and Internal Affairs Committee Aleksandar Markovic took part in the Interparliamentary Conference on the Common Foreign and Security Policy (CFSP) and the Common Security and Defence Policy (CSDP) of the European Union, co-organised by the Spanish Parliament and the European Parliament, under the auspices of the Spanish Presidency of the Council of the European Union, in Madrid, on 1 and 2 October 2023.
---
The conference was opened by Francina Armengol Socias, President of the Congress of Deputies of the Spanish Parliament, while Zeljana Zovko, Vice-Chair of the Committee on Foreign Affairs, greeted the participants on behalf of the European Parliament.
The topics of the Conference were the priorities and development of the EU Common Foreign and Security Policy and current challenges, the Russian invasion of Ukraine and its consequences, as well as European defence and the challenges to the EU Common Defence Policy.
In the course of the Conference, the delegation had bilateral meetings with the delegations of Germany, Sweden, Spain, Slovenia, Hungary, Portugal, Lithuania and the European Parliament. The meetings focused on the improvement of bilateral and parliamentary cooperation, the latest developments in Kosovo-Metohija, the prospects for the expansion of the European Union to the Western Balkans, the current situation in Europe during the Ukrainian crisis and European support for Ukraine.
---
---