National Assembly of the Republic of Serbia / Activities / Activity details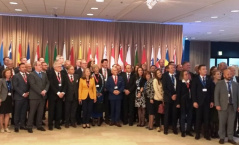 30 September 2019 Participants of the Interparliamentary Conference
Monday, 30 September 2019
National Assembly Delegation at Interparliamentary Conference
MPs Gorica Gajic and Snezana Paunovic, members of the Committee on the Economy, Regional Development, Trade, Tourism and Energy, are taking part in the Interparliamentary Conference on Stability, Economic Coordination and Governance in the European Union held in Helsinki, 30 September – 1 October 2019, under the auspices of Finland's Presidency of the EU Council, at the invitation of the Chairperson of the Finnish Parliamentary Committee on Finance.
---
The conference focuses on the following topics: Economic Governance in the Economic and Monetary Union: What next?; Beyond the EU 2020 Strategy for growth and jobs: new goals and indicators?; How to trigger public and private investments in the EU? and How to support innovations for sustainable growth?
The National Assembly delegation is taking part in the panels on triggering public and private investments and supporting innovations as pillars of sustainable growth.


---
---
friday, 1 july
11.00 - the National Assembly Speaker addresses the conference on the Position of Serbia's in the Euro-Atlantic Community (National Assembly Building, 14 Kralja Milana Street, Grand Hall)