National Assembly of the Republic of Serbia / Activities / Activity details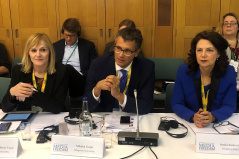 10 September 2019 The National Assembly delegation at the International Parliamentary Seminar on Media Freedom in London
Tuesday, 10 September 2019
National Assembly Delegation at International Parliamentary Seminar on Media Freedom in London
A delegation of the National Assembly of the Republic of Serbia comprising Natasa Mihailovic Vacic, Mladen Grujic and Sanda Raskovic Ivic is taking part in the International Parliamentary Seminar on Media Freedom in London, 9 – 11 September 2019.
---
In June, the UK Government organized the Global Conference for Media Freedom, and the focus of the present seminar is the parliamentary perspective and the role of the parliament MPs, parliamentary cooperation and dialogue in the matter of media freedom and protection of journalists.
The International Parliamentary Seminar is hosted by the British Group of the Inter-Parliamentary Union (BGIPU) and the UK Parliament.
---
---
monday, 23 may
No announcements for selected date