National Assembly of the Republic of Serbia / Activities / Activity details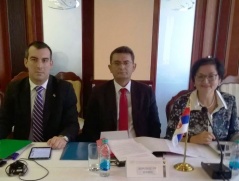 2 September 2016 The National Assembly delegation at the 4th Conference of Danube Parliamentarians
Friday, 2 September 2016
National Assembly Delegation at 4th Conference of Danube Parliamentarians
A delegation of the National Assembly of the Republic of Serbia is taking part in the 4th Conference of Danube Parliamentarians in the town of Brcko, Bosnia and Herzegovina, 1- 2 September 2016.
---
The delegation comprises National Assembly Deputy Speaker Veroljub Arsic, National Assembly Deputy Speaker Gordana Comic, and the Chairman of the Stabilisation and Association Parliamentary Committee Vladimir Orlic.
The Conference is part of the parliamentary dimension of the EU Danube Strategy realised by the 14 countries of the Danube basin, five of which are not EU member states, Serbia among them.
The topic of this year's Conference of Danube Parliamentarians is "Development of port infrastructure capacities in the countries of the Danube Region – the role of parliamentarians in the strengthening and improvement of economic relations".
In his address, Deputy Speaker Veroljub Arsic stressed that Serbia is eager to take part in EU Danube Strategy projects related to connecting ports and modernising their operation since the development of more efficient multimodal terminals in the Danube ports and connecting them with the road and railway transport by 2020 is one of Serbia's priorities, highlighted in the strategic documents passed by the National Assembly.
He also said that having good connections with the rest of Europe is highly important for the Western Balkans and in that sense Serbia views the Danube Strategy as an additional instrument for fostering stronger ties in the region which will bring it closed to EU membership.
Since the Danube Strategy is the first EU strategy to include non-member states, cooperation within its framework is an important experience and a big contribution to Serbia's foremost foreign policy objective – EU membership.
The Conference was attended by members of national, regional and local parliaments of countries of the Danube Region who, at the end of the Conference, adopted a Joint Declaration.
The activity is realised with the support of the UNDP Project.
---
---
| M | T | W | T | F | S | S |
| --- | --- | --- | --- | --- | --- | --- |
| 27 | 28 | 29 | 30 | 31 | 1 | 2 |
| 3 | 4 | 5 | 6 | 7 | 8 | 9 |
| 10 | 11 | 12 | 13 | 14 | 15 | 16 |
| 17 | 18 | 19 | 20 | 21 | 22 | 23 |
| 24 | 25 | 26 | 27 | 28 | 29 | 30 |
| 31 | 1 | 2 | 3 | 4 | 5 | 6 |
saturday, 15 august
No announcements for selected date