National Assembly of the Republic of Serbia / Activities / Activity details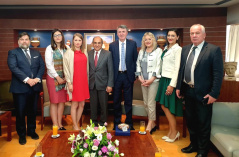 4 July 2019 The delegation of the National Assembly in visit to the Cypriot Parliament
Thursday, 4 July 2019
National Assembly Delegation Meets with Cypriot Parliament Speaker
Cypriot Parliament Speaker Demetris Syllouris reaffirmed the country's support of Serbia's territorial integrity and non-recognition of the so-called state of Kosovo.
---
Speaking with the delegation of the National Assembly of the Republic of Serbia visiting Cyprus, headed by Foreign Affairs Committee Chairman Prof. Dr Zarko Obradovic, the officials noted that the relations between the two countries, firmly grounded in friendship, are at a very high level, which parliamentary cooperation greatly contributes to.
The National Assembly delegation reaffirmed the support of Cyprus' territorial integrity concerning the escalation in the exclusive economic zone.
The officials also talked about advancing parliamentary cooperation under the auspices of the two parliaments' Memorandum of Understanding.
Both sides agreed that there is ample potential to boost the volume of trade between the two countries and advance economic cooperation in general.
They agreed to continue supporting one another in international organizations in the realization of goals of common interest.
The delegation comprising the head of the PFG with Cyprus Biljana Pantic Pilja, members of the Foreign Affairs Committee Ljiljana Malusic and Nikola Savic, and members of the PFG with Cyprus Stanislava Janosevic and Dr Dragana Barisic, also met with Yiorgos Lillicas, Chairman of the Committee on Foreign and European Affairs and head of the PFG with Serbia of the Cypriot House of Representatives, and the members of the Committee and PFG, and also visited the so-called "Green Line" buffer zone with the members of Nicosia Town Hall.


---
---
monday, 16 may
No announcements for selected date