National Assembly of the Republic of Serbia / Activities / Activity details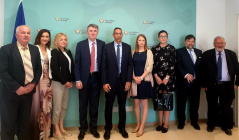 5 July 2019 The National Assembly delegation with the Cypriot Minister of Defence
Friday, 5 July 2019
National Assembly Delegation Meets with Cypriot Minister of Defence
Cypriot Minister of Defence Savvas Angelides reaffirmed the historical closeness and solidarity of the peoples of Cyprus and Serbia and the country's active engagement on speeding up Serbia's European integration.
---
In the meeting with the National Assembly delegation visiting Cyprus, headed by Foreign Affairs Committee Chairman Prof. Dr Zarko Obradovic, both sides noted that there is ample potential to advance the cooperation between the two countries in the field of defence and elsewhere.
Obradovic thanked Cyprus for its support of Serbia's territorial integrity and sovereignty and for preventing Kosovo from joining international organizations.
The National Assembly delegation reaffirmed full support for the territorial integrity of Cyprus, including at sea, and supported finding a comprehensive solution for the Cyprus issue based on relevant UN resolutions and future agreements between the two Cypriot communities.
They also launched an initiative for Serbia-Cyprus-Greece trilateral cooperation.
The delegation comprising the head of the PFG with Cyprus Biljana Pantic Pilja, members of the Foreign Affairs Committee Ljiljana Malusic and Nikola Savic, and members of the PFG with Cyprus Stanislava Janosevic and Dr Dragana Barisic, also visited the border of occupied Famagusta and talked to the members of Famagusta Town Hall.


---
---
wednesday, 6 december
No announcements for selected date