National Assembly of the Republic of Serbia / Activities / Activity details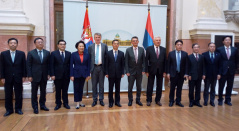 20 September 2019 The MPs and the delegation of the Supreme People's Court of the People's Republic of China
Friday, 20 September 2019
National Assembly Delegation Headed by Deputy Speaker Arsic Meets with Delegation of Chinese Supreme People's Court
National Assembly Deputy Speaker Veroljub Arsic welcomed the visiting delegation of the Supreme People's Court of the People's Republic of China on behalf of the National Assembly Speaker and himself, stressing that their visit is testament to the intensive and comprehensive cooperation between the two countries and their institutions.
---
The Cooperation between China and Serbia has been following an upward trend and their strategic partnership was reaffirmed by Chinese President Xi Jinping's visit in 2016 and Serbian President Aleksandar Vucic's multiple visits to China and support for the Belt and Road Initiative which is not only an economic project, but also a project supporting peace and stability in a greater part of the world.
The work of the National Council for Coordination of Cooperation with the People's Republic of China, comprising 10 ministers of the Serbian Government, testifies to the importance Serbia attributes to its cooperation with the People's Republic of China.
The National Assembly joined in the bilateral cooperation by signing the Protocol on the establishment of the Commission for Cooperation between the National Assembly of the Republic of Serbia and the Chinese National People's Congress, which has so far had two meetings one of which was dedicated to strengthening cooperation in the fields of the judiciary and prosecution.
Deputy Speaker Arsic thanked China for its principled stance on Serbia's territorial integrity and sovereignty, saying that with it China gives vital support to the maintenance of peace and stability.
Head of the Chinese delegation Zhou Qiang agreed with Deputy Speaker Arsic that after the Chinese President's visit to Serbia the two countries' relationship had progressed greatly and entered, as he said, a new era. He also emphasized the excellent cooperation under the Belt and Road initiative. Speaking of China's judiciary system, Zhou Qiang said that the Chinese state leadership is committed to judiciary reform so that each and every citizen can feel justice in every court case.
He hopes that his visit will intensify cooperation and exchange of experiences and good practice between the two judiciary systems and invited the Serbian delegation visiting China next to come and visit the Chinese judiciary institutions.
The National Assembly delegation also comprised the Chairman of the Committee on the Judiciary, Public Administration and Local Self-Government Petar Petrovic who spoke about the duties and functioning of the Serbian judiciary system. The Head of the PFG with China Prof. Dr Zarko Obradovic said that the National Assembly's visits to China had proven very beneficial and provided an opportunity for the MPs to learn more about modern China, which is very useful since the MPs are excellent promoters of good and friendly relations between the two countries.
The meeting was also attended by the Ambassador of the People's Republic of China to Serbia H.E. Chen Bo.


---
---
tuesday, 29 november
11.00 - sitting of the Committee on Finance, State Budget and Control of Public Spending (National Assembly House, 13 Nikola Pasic Square, hall 2)

11.00 - video meeting of the members of the National Assembly Foreign Affairs Committee and the Ukrainian Verkhovna Rada (National Assembly House, 13 Nikola Pasic Square, hall 4)

12.00 - press conference of MP MA Ivan Kostic (National Assembly House, 13 Nikola Pasic Square, Central Hall)

12.30 - the National Assembly Speaker meets with Cypriot Minister of Defence (National Assembly House, 13 Nikola Pasic Square, hall 1)