National Assembly of the Republic of Serbia / Activities / Activity details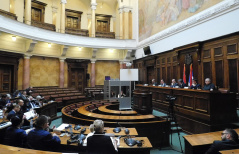 18 April 2018 The members of the National Assembly committees in meeting with the delegation of the NATO PA Sub-Committee on Future Security and Defence Capabilities
Wednesday, 18 April 2018
National Assembly Committee Members Meet with NATO PA Sub-Committee on Future Security and Defence Capabilities Delegation
The members of the National Assembly's standing delegation to NATO PA, Foreign Affairs Committee, Defence and Internal Affairs Committee and the European Integration Committee met today at the National Assembly with the delegation of the NATO Parliamentary Assembly's Sub-Committee on Future Security and Defence Capabilities currently in official visit to the Republic of Serbia.
---
Joao Rebelo, Chairperson of the NATO PA Sub-Committee on Future Security and Defence Capabilities, highlighted the excellent cooperation with the National Assembly's standing delegation to NATO PA stressing that the Serbian delegation is very active in the international organization.

Greeting the NATO PA delegation, the Head of the National Assembly's standing delegation to NATO PA Dragan Sormaz stressed Serbia's key role in the Western Balkan region. Sormaz opined that the National Assembly enjoys a high level of cooperation with the NATO PA.

Foreign Affairs Committee Chairman Prof. Dr Zarko Obradovic presented the work and scope of the Committee he chairs underlining the importance of the parliamentary dimension of foreign policy. Serbia's foreign policy priority is EU accession and the National Assembly fully contributes to the efforts invested to achieve it, said Obradovic. He said that the biggest challenge on the path to EU integration is the question of Kosovo-Metohija adding that Belgrade has shown willingness to resolve the problems in the relations with Pristina through dialogue by signing the Brussels Agreement five years ago, however the Albanian side is not working on the implementation of the Agreement and no Community of Serb Municipalities had been established yet.

Presenting the work of the Defence and Internal Affairs Committee, Deputy Chairman Marko Djurisic said that, besides its legislative activity, it also focuses on strengthening its supervisory role over the executive. Djurisic stressed that the National Assembly doing its bit to contribute to global peace by adopting decisions on the engagement of the Serbian Armed Forces and other defence forces in the UN and EU multinational operations.

European Integration Committee Chairman Nenad Canak stressed that Serbia's EU accession is a priority and the members of the National Assembly agree that joining the EU is in the interest of Serbian citizens. Canak said that 12 of the 35 negotiation chapters have been opened while an additional five are ready to be opened, adding that the European Integration Committee and the National Assembly are doing their best to expedite the accession process.

In the course of the meeting the MPs and the NATO PA delegation also spoke about cooperation in the fight against the global security challenges of migration, terrorism, organized crime, human trafficking and about cyber security. They also spoke about the development of Serbia's armed forces within the Partnership for Peace, the country's military neutrality and economic relations with the countries of the EU, China and Russia.


---
---
tuesday, 30 november
11.30 - 51st meeting of the National Assembly Collegium (National Assembly House, 13 Nikola Pasic Square, hall 1)

13.00 - sitting of the Culture and Information Committee (National Assembly House, 13 Nikola Pasic Square, hall 3)

13.00 - Eighth Special Sitting of the National Assembly of the Republic of Serbia, 12th Legislature (National Assembly House, 13 Nikola Pasic Square)

13.30 - the National Assembly Speaker addresses Hanukkah celebration (National Assembly House, 13 Nikola Pasic Square, Small Hall)

13.30 - Hanukkah celebration (National Assembly House, 13 Nikola Pasic Square, Small Hall)