National Assembly of the Republic of Serbia / Activities / Activity details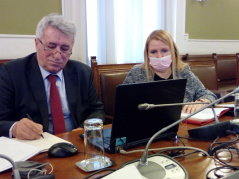 23 February 2021 SDGs Focus Group Coordinator Dr Milorad Mijatovic
Tuesday, 23 February 2021
National Assembly's SDGs Focus Group Invited to Join Parliamentarians for Global Goals Network
SDGs Focus Group Coordinator Dr Milorad Mijatovic had a video call with former Danish MP and Minister of Environment Kirsten Brosbol, founder of the organisation Parliamentarians for the Global Goals.
---
On the occasion, the Focus Group was invited to join the global network of parliamentarians dedicated to achieving the Sustainable Development Goals, boasting over 70 MPs from 36 countries and five regions of the world. The network is a global platform for the exchange of information and best parliamentary practice concerning the achievement of the Sustainable Development Goals.
In the course of the conversation, Dr Milorad Mijatovic presented the results achieved by the Focus Group so far, as well as its activity plan for the coming period. He was especially pleased that the efforts of the National Assembly's Focus Group have been recognised internationally. Finally, the officials agreed on future cooperation on the presentation of the Focus Group's activities at the international level.
---
---
saturday, 25 june
No announcements for selected date