National Assembly of the Republic of Serbia / Activities / Activity details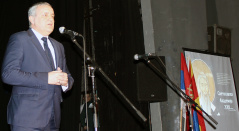 26 January 2019 Miodrag Linta at the Solemn Academy in Kumanovo, marking St. Sava Day
Saturday, 26 January 2019
Miodrag Linta and Aleksandar Markovic at St. Sava Celebration in Kumanovo
The Chairman of the Serbian National Assembly's Committee on the Diaspora and Serbs in the Region Miodrag Linta and Committee member Aleksandar Markovic attended the Solemn Academy in Kumanovo on 26 January to mark St. Sava Day, the national holiday of Serbs in Macedonia. Linta and Markovic were invited to the gathering by Ivan Stoilkovic, head of the organizing committee and representative of the Serb community in the Macedonian Parliament.
---
Miodrag Linta addressed the attending fellow-Serbs saying that the state of Serbia cares about the Serbs in Macedonia, the other countries in the region and the diaspora. The Ministry of Culture and Media and the Office for Cooperation with the Diaspora and Serbs in the Region provide support for projects conducted by Serbian associations and organizations outside of Serbia to preserve the national identity of Serbs abroad and strengthen the ties with the motherland. Linta said that Serbs in Macedonia and the other states in the region should be considered a question of national importance and receive systemic and daily assistance and support for the survival of the Serbian people at its ancient home hearths. He stressed that the Committee on the Diaspora and Serbs in the Region enjoys excellent cooperation with the representatives of Serbs from Macedonia, finally telling the Serbs in Macedonia to preserve their name and Serbia would help them to do so wholeheartedly.
The Solemn Academy was held at the crowded hall of the National Theatre in Kumanovo in the presence of over 400 Serbs and their guests. Serbian Ambassador to Macedonia Dusanka Divjak Tomic and associates were among the attending.
The programme included a folklore dance and recital by the Arts and Culture Association "Srpski Vez" from Kumanovo, Novi Sad writer and director Dragoslav Bokan spoke about St. Sava, Belgrade actors Tasana Djordjevic and Lazar Dubovac read verses on Kosovo-Metohija and the musical ensemble Djurdjevi Stupovi also had a performance.


---
---
thursday, 24 september
No announcements for selected date