National Assembly of the Republic of Serbia / Activities / Activity details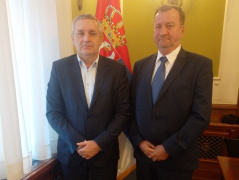 17 September 2019 The Chairman of the Committee on the Diaspora and Serbs in the Region Miodrag Linta and the President of Foundation "Mir Bozji"
Tuesday, 17 September 2019
Miodrag Linta Receives Prof. Zdravko Mocevic, President of Banja Luka Foundation "Mir Bozji"
The Chairman of the Committee on the Diaspora and Serbs in the Region Miodrag Linta met with Prof. Zdravko Mocevic, President of Foundation "Mir Bozji" (Peace of God) from Banja Luka, Republic of Srpska, Bosnia and Herzegovina.
---
The topic of the meeting were the activities of Foundation "Mir Bozji" concerning quiz competition "Nemanjici" (Nemanjic Dynasty) organized to mark 800 years of independence of the Serbian Orthodox Church.

The competition is the biggest educational event to mark 800 years of independence of the Serbian Orthodox Church. The project is planned for middle-school students. Mocevic said that several thousands of competitors from Serbia, the Republic of Srpska and the region, as well the diaspora in Europe, the US, Australia and Canada will be taking part in the event. The competition will take place from September 2019 to January 2020, and the semi-finals will be held in St. Sava's Church in Belgrade, televised and aired in several countries.
Miodrag Linta thanked Prof. Mocevic for the visit and his efforts in setting up this big an important project to foster ties between young Serbs in the region and the diaspora and the motherland and preserve Serbian history, culture and national identity, which is also an opportunity to present its rich history and cultural heritage to the world. He said that informing then general public about the competition and marketing activities should be the focus of future attention.
---
---
monday, 16 may
No announcements for selected date