National Assembly of the Republic of Serbia / Activities / Activity details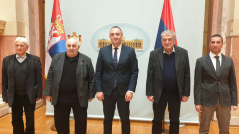 6 April 2021 Milimir Vujadinovic with the representatives of the Cultural Community of Krajina and the Krajina Serbian Academy of Sciences and Arts
Tuesday, 6 April 2021
Milimir Vujadinovic Meets with Representatives of Krajina Cultural Community and Krajina Serbian Academy of Sciences and Arts
The Chairman of the Committee on the Diaspora and Serbs in the Region Milimir Vujadinovic met today with the representatives of the Cultural Community of Krajina (KZK) and the Krajina Serbian Academy of Sciences and Arts (KSANU) to discuss cooperation at the regional level.
---
President of the Cultural Community of Krajina Zeljko Kukic, vice-presidents of the Krajina Serbian Academy of Sciences and Arts Prof. Dr Velimir Cerimovic and Milos Kovacevic, and member of the KSANU Managing Board Sladjan Pejic, spoke about the activities they are engaged in within their representative offices. The goal of both communities is to preserve the identity of Serbs living in the region, through culture and history, as well as to organise exhibitions, concerts, literary and other events. The representatives said that one of the KZK and KSANU goals is to connect with the diaspora in the region as well as the diaspora living in different parts of the world.
Kovacevic pointed out the need to preserve the Serbian cultural linguistic space and, as member of the SANU Language Standardisation Committee, the need for a law on the Cyrillic alphabet.
Vujadinovic said that he would gladly respond to the invitation to the next regional meeting organised by the KZK and KSANU, to be held in Croatia, if the pandemic situation allows. He also said that the Law amending the Republic of Serbia 2020 Budget Law had allocated funds for the implementation of projects in the Republic of Srpska and that the Republic of Serbia invests in infrastructure and culture in the region where the diaspora lives. He stressed that all of the organisations' help is important for the Serbian people, including these two, to appeal to our people in the region to clearly declare themselves as Serbs in census years, regardless of the pressures they undoubtedly suffer, and to exercise their right to dual citizenship, i.e. citizenship of the Republic of Serbia. This will undoubtedly help and give additional legitimacy to the Serbian President and the Government of the Republic of Serbia to continue caring for the people in the region, in accordance with all international norms, added the Committee Chairman.
The guests and host also discussed further cooperation on uniting the culture and historical landmarks in the Western Balkans.
---
---
friday, 1 july
11.00 - the National Assembly Speaker addresses the conference on the Position of Serbia's in the Euro-Atlantic Community (National Assembly Building, 14 Kralja Milana Street, Grand Hall)