National Assembly of the Republic of Serbia / Activities / Activity details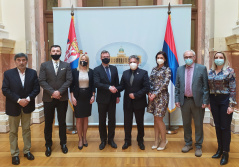 9 March 2021 The members of the Parliamentary Group of Friendship with Slovenia with the Slovenian Ambassador to Serbia
Tuesday, 9 March 2021
Members of the Parliamentary Friendship Group with Slovenia Meet with Slovenian Ambassador to Serbia
Members of the Parliamentary Friendship Group with Slovenia met today at the National Assembly with the Ambassador of the Republic of Slovenia to the Republic of Serbia Damjan Bergant to discuss the relations between the two countries and the possibilities for further improvement of bilateral cooperation.
---
Milija Miletic, Head of the PFG with Slovenia, said that the two countries enjoy friendly relations, without open issues, especially emphasising the high-level cooperation between the Presidents of the two countries, Aleksandar Vucic and Borut Pahor.
Miletic thanked Slovenia for the support it provides Serbia in the process of European integration, highlighting the importance of economic cooperation and the large number of Slovenian companies operating in Serbia.
It is in Serbia's interest to ensure the equitable development of both urban and rural areas, said Milija Miletic pointing out the National Assembly' important role in passing laws that improve the citizens' living conditions and create a favourable business environment.
Slovenian Ambassador Damjan Bergant opined that the trade between Serbia and Slovenia, amounting to one and a half billion euros, is a good indicator of the successful economic cooperation and business dealings both of Slovenian companies in Serbia and Serbian companies in Slovenia. He stressed that Slovenia strongly supports Serbia and other Western Balkan countries' EU membership aspirations. The Ambassador added that the Serbian Government has set its goals well in terms of European integration and that he expected the opening of new negotiating clusters.
In the conversation with the Slovenian Ambassador, the PFG members stressed the importance of close cooperation between parliamentarians as the directly elected representatives of the people and the expectation that delegations of the two parliaments' friendship groups would soon exchange visits.
In addition to the PFG Head Milija Miletic, the meeting was also attended by PFG members Prof. Dr. Ljubisa Stojmirovic, Samir Tandir, Dr Dragana Barisic, Bratimir Vasiljevic, Ana Miljanic and Jelena Obradovic. They pointed out that there is room for further development of cooperation in the field of culture, sports, education and training.
After the meeting, Milija Miletic and Damjan Bergant addressed the media in a press conference.
---
---