National Assembly of the Republic of Serbia / Activities / Activity details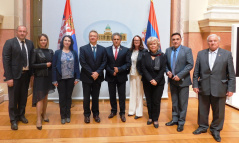 22 May 2019 The members of PFG with Slovenia and Slovenian Ambassador to Serbia Iztok Jarc
Wednesday, 22 May 2019
Members of PFG with Slovenia Meet with Slovenian Ambassador to Serbia
The members of PFG with Slovenia meet today with the Slovenian Ambassador to Serbia H.E. Iztok Jarc to discuss the bilateral cooperation between Serbia and Slovenia.
---
In this, the first meeting of the members of PFG with Slovenia and Ambassador Jarc since he assumed his ambassadorial duties, the officials discussed the political and economic cooperation between the two countries, regional cooperation, as well as cooperation in the fields of agriculture, environmental protection, education, science and technology, and Slovenia's support for Serbia's European integration.
The officials opined that the relations between Serbia and Slovenia are good and urged to intensify cooperation at all levels.
The Head of the PFG with Slovenia Milija Miletic said that the cooperation between the two countries has been intensified in the past few years, highlighting the wish of the members of both parliaments' friendship groups to promote parliamentary cooperation. He thanked the Slovenian Ambassador for his country's support of Serbia's European path, especially in the opening of new negotiation chapters. Miletic also spoke about the good economic cooperation between the two countries and the Slovenian companies doing business in Serbia and employing a great many citizens. He praised Slovenia's engagement in the Brdo-Brioni regional cooperation initiative, opining that the current situation in Kosovo-Metohija is hardly conducive to reconciliation in view of Pristina's not abiding by the Brussels Agreement, establishing an army, imposing 100% customs tax on goods from Serbia and Bosnia and Herzegovina and passing a resolution on genocide which does not correspond to reality.
Slovenian Ambassador to Serbia Iztok Jarc opined that the cooperation between the Serbian and Slovenian parliaments is following an upward trend which is a good sign for both the legislative bodies and the countries. He informed the PFG members about the activities the Slovenian Embassy in Belgrade employs to promote bilateral cooperation, especially in terms of European integration, agriculture, science and technology, environmental protection, economic and regional cooperation. Ambassador Jarc said that the Slovenian PFG with Serbia is composed of prominent Slovenian politicians interested in intensifying cooperation with their Serbian counterparts.
The officials also spoke about the status of the Serbian community in Slovenia, opining that, in addition to their common past, the two countries must also have a bright common future.
The meeting was attended by PFG members Natasa St. Jovanovic, Predrag Jelenkovic, Goran Kovacevic, Prof. Dr Miladin Sevarlic, Dr Svetlana Nikolic Pavlovic, Dr Borka Grubor, Ana Carapic and Danijela Stojadinovic, and Slovenian Deputy Ambassador Roman Weixler.


---
---
monday, 28 september
No announcements for selected date