National Assembly of the Republic of Serbia / Activities / Activity details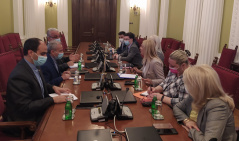 6 April 2021 The members of the PFG with Iran in meeting with the Iranian Ambassador to Serbia
Tuesday, 6 April 2021
Members of PFG with Iran and Iranian Ambassador Discuss Further Improvement of Bilateral Relations
The Head of the Parliamentary Friendship Group with Iran Jasmina Karanac and the PFG members met today in the National Assembly with the Ambassador of the Islamic Republic of Iran to the Republic of Serbia Rashid Hassan Pour Baei to discuss the bilateral relations between the two countries and opportunities for furthering cooperation.
---
Jasmina Karanac stated that the relations between Serbia and Iran are traditionally friendly and the two countries' parliamentary cooperation is at a high level, as evidenced by the existence of friendship groups in both parliaments, as well as the exchange of visits of parliamentary delegations in the previous period. She expects that this level of cooperation will continue despite the epidemiological situation in Serbia and Iran.
The PFG Head thanked Iran for not recognising the independence of the so-called state of Kosovo and respecting Serbia's territorial integrity and sovereignty. She pointed out that the two countries also support each other in international organisations.
While political relations are at a high level, economic cooperation is lagging behind, said Karanac, stressing that the sanctions against Iran have rendered payments and monetary transactions inoperational. That is why, she said, it would be good to establish direct banking cooperation between our two countries and resolve the issue of payment operations, which would lead to an increase in trade.
In the course of the meeting, Jasmina Karanac informed Ambassador Pour Baei about the vaccination in Serbia, stating that thanks to the President and Government, vaccination-wise the Republic of Serbia is faring among the best countries in the world, with 25% of its citizens having already received the first dose of vaccine and 20% both. She praised Iran for starting the production of its own vaccines against the coronavirus, hoping that mass immunisation would soon bring them of the health crisis.
Iranian Ambassador Rashid Hassan Pour Baei praised the extensive parliamentary cooperation between the two countries, expecting that it would continue to improve. Ambassador Pour Baei congratulated Serbia on the successful fight against the coronavirus and praised the speed of immunisation. He especially praised the great humane gesture of allowing for the citizens of the neighbouring countries to be vaccinated in Serbia.
The Iranian Ambassador said that cooperation in the field of agriculture is the backbone of economic cooperation between Serbia and Iran and that there are great opportunities and interest to develop cooperation in the field of sports and tourism.
The meeting was also attended by PFG members Prof. Dr Ljubinko Rakonjac, Jasmina Obradovic, Djordje Todorovic, Prof. Dr Ljubisa Stojmirovic and Luka Kebara. They emphasised the importance of parliamentary diplomacy and talked about the possibilities of improving cooperation between Serbia and Iran in the field of science, technological development, forestry and culture.
---
Photo gallery
---
---
friday, 1 july
11.00 - the National Assembly Speaker addresses the conference on the Position of Serbia's in the Euro-Atlantic Community (National Assembly Building, 14 Kralja Milana Street, Grand Hall)