National Assembly of the Republic of Serbia / Activities / Activity details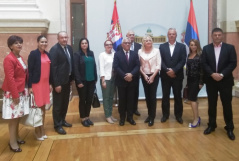 9 September 2019 The members of the PFG with Indonesia and the Indonesian Ambassador to Serbia
Tuesday, 10 September 2019
Members of PFG with Indonesia Meet with Newly-Appointed Indonesian Ambassador to Serbia
The members of the PFG with Indonesia met yesterday with the newly-appointed Ambassador of Indonesia to Serbia H.E. Mochammad Chandra Widya Yudha.
---
In this, the first meeting of the members of the PFG with Indonesia with Ambassador Widya Yudha since his appointment the officials discussed political and economic cooperation and the advancement of parliamentary and overall bilateral cooperation in light of the fact that it has been 65 years since the two countries establish diplomatic ties.
The Head of the PFG with Indonesia Ljiljana Malusic thanked Ambassador Widya Yudha for his country's abiding by international law and not recognizing the unilaterally declared independence of Kosovo-Metohija, saying that Serbia is committed to dialogue with Pristina and Belgrade is ready to continue it the moment the uncivilizational customs taxes Pristina imposed on goods from Serbia and Bosnia and Herzegovina are rescinded. Malusic said that the events in Kosovo-Metohija demonstrate that Pristina's acts are jeopardizing both the dialogue and the security of the Serbian and other non-Albanian populace of Kosovo-Metohija.
The Head of the PFG with Indonesia also thanked the country for its support during the 2014 floods in Serbia. Serbia is proud of maintaining inter-religious dialogue with Indonesia since 2011 and believes that the two countries should also foster a high-level parliamentary relationship to keep the two nations closely connected despite the geographical distance. Malusic said that the National Assembly's 29-stroing PFG is committed to advancing the economic cooperation with Indonesia in light of the good investment climate in Serbia resulting from the reform process begun in 2014 and the country's pursuance of a policy of peace, stability and cooperation. Malusic also hopes Indonesia will be sending a high-tier delegation to the 141st IPU Assembly Belgrade will be hosting in October.
Ambassador Mochammad Chandra Widya Yudha conveyed his country's fervent wish to strengthen economic and overall bilateral cooperation. Indonesia will continue to abide by international law, said the Ambassador adding that the two countries' cooperation has not reached full capacity. He opined that advancing cooperation in the fields of agriculture and innovative technologies would be very useful.
The members of the PFG with Indonesia said that Serbia is very interested in Indonesian investments and is ready to strengthen trade and exchange in the fields of agriculture, innovative technologies, tourism, military and chemical industry, culture and education, with special focus of the burgeoning Indonesian economy's interest to invest into eastern Serbia and organic production.
In addition to the Head of the PFG with Indonesia, the meeting was also attended by Aleksandar Markovic, Goran Kovacevic, Milanka Jevtovic Vukojicic, Dragana Kostic, Olivera Pesic, Sonja Vlahovic, Mladen Lukic, Veroljub Matic, Tanja Tomasevic Damnjanovic and Dalibor Radicevic.


---
---
monday, 16 may
No announcements for selected date