National Assembly of the Republic of Serbia / Activities / Activity details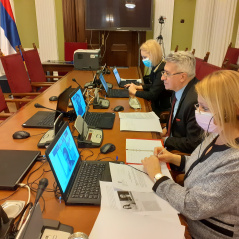 9 March 2021 Member of the NARS standing delegation to the Inter-Parliamentary Union Dr Milorad Mijatovic at the meeting of the IPU Group of Facilitator for Cyprus
Tuesday, 9 March 2021
Meeting of IPU Group of Facilitator for Cyprus
Dr Milorad Mijatovic, member of the standing delegation of the National Assembly of the Republic of Serbia to the Inter-Parliamentary Union (IPU), took part in the meeting of the IPU Group of Facilitators for Cyprus held on 9 March 2021 in a virtual format.
---
In the course of the meeting, Dr Mijatovic and Italian parliamentarian Lia Quartapelle discussed the organisation and future operation of the Group, possibilities for having a meeting with representatives of the two communities in Cyprus, i.e. visits to Cyprus, as well as the Group's contribution to the new 2022-2026 IPU Strategy.
The Group of Facilitator for Cyprus was established in 1998 as a mechanism of the Inter-Parliamentary Union that allows the two communities in Cyprus to meet with members of the Group on the basis of political equality and discuss the state-of-play of the United Nations-sponsored negotiations.
---
---
wednesday, 8 december
11.00 - sitting of the Committee on the Economy, Regional Development, Trade, Tourism and Energy (National Assembly House, 13 Nikola Pasic Square, hall 2)