National Assembly of the Republic of Serbia / Activities / Activity details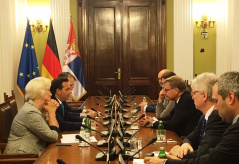 28 August 2018 National Assembly Deputy Speaker Prof. Dr Vladimir Marinkovic in meeting with the delegation of the German Bundestag
Tuesday, 28 August 2018
Marinkovic and Bundestag Member
National Assembly Deputy Speaker Prof. Dr Vladimir Marinkovic met today with a delegation of the German Bundestag headed by MP Dr Johann Wadephul, currently in official visit to the Republic of Serbia.
---
The conversation revolved around economic relations, Germany's support of the EU integration process and bilateral relations.
Prof. Dr Vladimir Marinkovic spoke about the activities the National Assembly is to undertake by the end of the year mentioning the coming elections for national minority councils in November.

The officials also spoke about economic development and reforms, so Marinkovic took the opportunity to thank the German companies doing business in Serbia and employing several tens of thousands of Serbian citizens.
Dr Johann Wadephul stressed how useful these exchanges are for parliamentarians, adding that the two countries' bilateral relations are excellent and followed closely by economic and social relations. Dr Wadephul wanted to know about the general feeling about European integration considering the country's close ties with the Russian Federation, to which Marinkovic said that according to the most recent polls 55% of the Serbian people want the country to join the EU, as do the majority of the MPs, and that EU membership is Serbia's chief foreign policy goal.
The officials also discussed the two countries' respective parliamentary election systems and concluded that the systems could stand to be reformed and improved in both of them.
Finally, Wadephul stated that Germany supports Serbia's Euro-integration, adding that Germany is a reliable partner and supporter on the path to the EU and that Serbia is an important factor of regional stability.


---
---
wednesday, 15 july
13.00 - press conference of MPs Sasa Radulovic, Branka Stamenkovic and Vojin Biljic (National Assembly House, 13 Nikola Pasic Square, Central Hall)