National Assembly of the Republic of Serbia / Activities / Activity details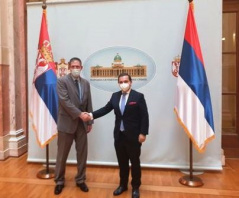 19 November 2020 MP Prof. Dr Vladimir Marinkovic with the Israeli Ambassador to Serbia Yahel Vilan
Thursday, 19 November 2020
Marinkovic Meets with Israeli Ambassador to Serbia
MP Prof. Dr Vladimir Marinkovic welcomed Israeli Ambassador in Belgrade H.E. Yahel Vilan in his first visit to the National Assembly, saying he hoped the excellent cooperation with the Israeli Embassy would continue to follow an upward trend.
---
He informed him that the National Assembly's newly-formed Parliamentary Friendship Group with Israel boasts 64 members, making it twice as big as in the previous legislature which speaks volumes of the growing interest for cooperation with the State of Israel. Marinkovic took the opportunity to tell the Ambassador that Serbia is open to concrete cooperation and creation of a favourable environment for Israeli investors and investments. He added that generating interest among Israeli tourists in Serbian culture is also a good way to strengthen the friendly ties between the two countries. The MP said that the current pandemic is hampering parliamentary relations, but he is convinced that the close cooperation with Israel would continue in the future.
H.E. Yahel Vilan congratulated the MP on his re-election and expressed hope that Serbia would overcome the troubling situation in the country due to the pandemic. He pointed out that each country is struggling in its own way with the economy and health, and that Israel was among the first countries to introduce restrictive measures to combat the coronavirus for the second time. He noted that countries can always learn from each other, even in this globally dire situation. The Ambassador said he sees next year as crucial for the cooperation between the two countries and that he is impressed by the reaction of Serbia who did not let the Washington agreement jeopardize the cooperation between the two countries. Vilan also pointed out that the establishment of the Office of the Government of the Republic of Serbia in Jerusalem shows that bilateral cooperation is one of the priorities and indicators of strong ties.
The officials agreed that the economic cooperation between Serbia and Israel has to be strengthened to keep pace with the good friendly relations between the two countries. They also agreed that the economic well-being of both countries lies in greater trade, agriculture and investments in renewable energy sources.


---
---
monday, 25 january
10.30 - Conference of the Women's Parliamentary Network (National Assembly House, 13 Nikola Pasic Square, Grand Hall)

11.00 - sitting of the Agriculture, Forestry and Water Management Committee (National Assembly House, 13 Nikola Pasic Square, hall 3)

11.10 - press conference of National Assembly Speaker Ivica Dacic, Prime Minister Ana Brnabic and WPN Coordinator Sandra Bozic (National Assembly House, 13 Nikola Pasic Square, Central Hall)

14.30 - sitting of the Committee on Constitutional and Legislative Issues (National Assembly House, 13 Nikola Pasic Square, hall 4)