National Assembly of the Republic of Serbia / Activities / Activity details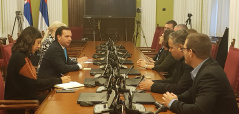 18 January 2019 National Assembly Deputy Speaker Prof. Dr Vladimir Marinkovic with the Israeli Ambassador and investors
Friday, 18 January 2019
Marinkovic Meets with Israeli Ambassador and Investors
National Assembly Deputy Speaker Prof. Dr Vladimir Marinkovic met today with the representatives of the Israeli company A.D.I. System, manufacturer of vehicle accessories, at the request of Israeli Ambassador in Belgrade H.E. Alona Fisher Kamm.
---
First off, the National Assembly Deputy Speaker highlighted the traditionally good political relations between the two countries, pleased to see the embassy's efforts to foster better economic ties. He said that Israel could be an excellent economic ally to Serbia in the Middle East, adding that with its three billion EUR of direct foreign investments in 2018, the country is second only to Poland in Europe.
The Israeli Ambassador said that economy is an important aspect of the cooperation between the two countries, helped by the ever higher tourist interest in Serbia and the rising numbers of Israeli companies developing businesses in the country. She said that Israel still does not have a realistic picture of the Balkan's potential for economic growth and hopes that the two countries would soon sign an agreement to abolish double taxation.
Avi Zeno, A.D.I. System Director General, presented the company's work, spanning three continents, focusing on high technology and scientific innovations as a potential field of cooperation. The officials agreed that there is room for cooperation and that Serbia is an important link in Israel's cooperation with countries such as Russia, Turkey and others.


---
---
saturday, 26 september
No announcements for selected date