National Assembly of the Republic of Serbia / Activities / Activity details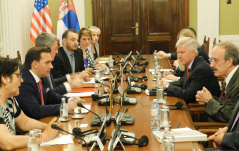 3 July 2019 The MPs in meeting with the US Congressman
Wednesday, 3 July 2019
MPs Talk to US Congressman Engel
In the course of his visit to Serbia, US Congressman Eliot Engel met with deputy speakers Prof. Dr Vladimir Marinkovic and Gordana Comic, Foreign Affairs Committee Chairman Prof. Dr Zarko Obradovic and MP Sandra Bozic to talk about the situation in the Western Balkans and the Belgrade-Pristina talks.
---
Congressman Engel said that the countries in the Western Balkans need to move beyond their enmities and cooperate to become EU members and create a better future for their people. He said that the US wants to facilitate the dialogue between Belgrade and Pristina and is friendly to both sides. Highlighting the long standing friendship between Serbia and the US, the American Congressman said he is sure the two countries would remain to be allies in the future as well.
The MPs emphasized how important it is to continue the dialogue between Belgrade and Pristina so as to find a lasting and sustainable solution in the interest of everybody who lives on these territories. They thanked Engel for urging for dialogue saying that his good image and influence in the region can contribute to the return to dialogue and to the peace and security of the region.


---
---
wednesday, 6 december
No announcements for selected date